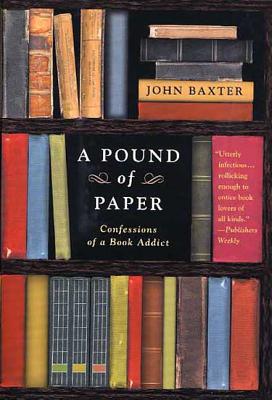 A Pound of Paper
Confessions of a Book Addict
Paperback

* Individual store prices may vary.
Other Editions of This Title:
Hardcover (12/1/2003)
Description
In the rural Australia of the fifties where John Baxter grew up, reading books was disregarded with suspicion, owning and collecting them with utter incomprehension. Despite this, by the age of eleven Baxter had 'collected' his first book - The Poems of Rupert Brooke. He'd read the volume often, but now he had to own it. This was the beginning of what would become a major collection and a lifelong obsession.

His book-hunting would take him all over the world, but his first real find was in London in 1978, when he spotted a rare copy of a Graham Greene children's book while browsing on a stall in Swiss Cottage. It was going for 5 pence. This would also, fortuitously, be the day when he first encountered one of the legends of the book-selling world: Martin Stone. At various times pothead, international fugitive from justice, and professional rock musician, he would become John's mentor and friend.

In this brilliantly readable and funny book, John Baxter brings us into contact with such literary greats as Graham Greene, Kingsley Amis, J.G. Ballard and Ray Bradbury. But he also shows us how he penetrated the secret fraternity of 'runners' or book scouts - sleuths who use bluff and guile to hunt down their quarry - and joined them in scouring junk shops, markets, auction rooms and private homes for rarities.

In the comic tradition of Clive James's Unreliable Memoirs, A Pound of Paper describes how a boy from the bush came to be living in a Paris penthouse with a library worth millions. It also explores the exploding market in first editions. What treasures are lying unnoticed in your garage?
Praise For A Pound of Paper: Confessions of a Book Addict…
"Baxter chronicles his growing obsession with books in a way that's utterly infectious, with sharp wit and self-deprecating humor . . . . Baxter's memoir will be of great interest to serious book collectors because so much of the book conveys the insiders' perspective, but his narrative is truly amusing and rollicking enough to entice book lovers of all kinds." —Publishers Weekly

"[An] entertaining account of his admittedly nerdy life. . . . Tasty junk food for book lovers." —Kirkus Reviews

"Baxter has written an informative book, and a delightful one, that guides the reader through a specialized and eccentric world with a wink and a smile." —Chicago Tribune

"A Pound of Paper leads us on a merry chase in pursuit of books, an undertaking as chancy as betting on the lottery. Baxter . . . prov[es] a most erudite and entertaining guide. . . . Essential to any current or prospective collector who wishes to engage in the hunt for a gem that might be worth a fortune or who simply wants to enjoy the pleasures of the game." —Roanoke Times

"Lively and colorful . . . . Baxter tells his stories with humor, suspense and plenty of style." —Virginian-Pilot

"Erudite and mirthful . . . told with ornery, self-deprecating wit." —Time Out New York

"A Pound of Paper--the weight, more or less of a book-is the peg on which Baxter hangs episodes of autobiography . . . the book collectors who buy this particular pound of paper will profit from it in every sense." —The London Times

"Of the making of many books there is no end. But who's complaining, especially when something as entertaining as John Baxter's A Pound of Paper comes along? At the outset he quotes Groucho Marx: " 'Outside a dog, a book is a man's best friend. Inside a dog, it's too dark to read.' " —Glasgow Sunday Herald

"An addictive romp through the unconventional life of an obsessive . . . . John Baxter may claim books lack sex appeal, but he proves the opposite." —Metro [England]
St. Martin's Griffin, 9780312317263, 432pp.
Publication Date: April 1, 2005
About the Author
John Baxter is a novelist and broadcaster as well as being a hugely acclaimed film critic and film biographer. His subjects have included Woody Allen, Steven Spielberg, Stanley Kubrick and Robert De Niro.