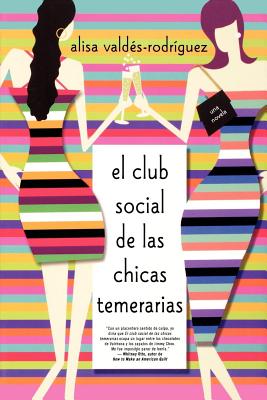 El club social de las chicas temerarias
Una Novela (Spanish edition of The Dirty Girls Social Club)
Paperback

* Individual store prices may vary.
Description
Spanish Language Edition of The Dirty Girls Social Club

A vibrant, can't-put-it-down novel of six friends—each one an unforgettable Latina woman in her late '20s—and the complications and triumphs in their lives

Inseparable since their days at Boston University almost ten years before, six friends form the Dirty Girls Social Club, a mutual support and (mostly) admiration society that no matter what happens to each of them (and a lot does), meets regularly to dish, dine and compare notes on the bumpy course of life and love.

Las sucias are:

--Lauren, the resident "caliente" columnist for the local paper, which advertises her work with the line "her casa is su casa, Boston", but whose own home life has recently involved hiding in her boyfriend's closet to catch him in the act
--Sara, the perfect wife and mother who always knew exactly the life she wanted and got it, right down to the McMansion in the suburbs and two boisterious boys, but who is paying a hefty price
--Amber, the most idealistic and artistic member of the club, who was raised a valley girl without a word of Spanish and whose increasing attachment to her Mexica roots coincides with a major record label's interest in her rock 'n' roll
--Elizabeth, the stunning black Latina whose high profile job as a morning television anchor conflicts with her intensely private personal life, which would explain why the dates the other dirty girls set her up on never work out
--Rebecca, intense and highly controlled, who flawlessly runs Ella, the magazine she created for Latinas, but who can't explain why she didn't understand the man she married and now doesn't even share a room with; and
--Usnavys, irrepressible and larger than life, whose agenda to land the kind of man who can keep her in Manolo Blahniks and platanos almost prevents her seeing true love when it lands in her lap.

There's a lot of catching up to do.
Praise For El club social de las chicas temerarias: Una Novela (Spanish edition of The Dirty Girls Social Club)…
"The feel of a night out with the girls...charming...undeniably fun." —Miami Herald

"This lively debut novel...reads like the Hispanic version of Waiting to Exhale." —New York

"As a guilty pleasure I would say The Dirty Girls Social Club ranks somewhere between Valrhona Chocolate and Jimmy Choo shoes--I simply could not put it down." —Whitney Ottto, author of How to Make an American Quilt

"The summer's must-have beach book" —Latina magazine

"A fresh spin on the best-of-friends novel that's funny, touching, and exhilarating. A winner!" —Jennifer Crusie

"The Latina community has a rich new voice and Valdez-Rodriguez is it." —Jeffrey Kluger, coauthor of Lost Moon: The Perilous Voyage of Apollo 13

"Dirty Girls sets out to prove Latina can mean anything--black, white, rich, poor, Spanish-speaking, not Spanish-speaking." —The Miami Herald

"Valdes-Rodriguez has written an incredible first novel, told in six distinct voices and points of view." —Library Journal

"In the end, it's the complex, finely drawn characters who make the book work." —Rocky Mountain News

"A heartfelt, fast-moving, and often funny page-turner." —Booklist

"This season's most scrumptious book...a summer must." —Advocate

"Those who liked The Joy Luck Club or The Divine Secrets of the Ya-Ya Sisterhood will enjoy The Dirty Girls Social Club...It is heartfelt, fast-moving, and often funny." —Oklahoman

"(An) affecting debut that takes a long, hard, and funny look at life in the U.S. for Latina women...an upscale telenovela with well-drawn, charmingly flawed characters from an author who explodes some myths." —Kirkus Reviews

"Marked by fast-paced dialogue and a pop-culture sensibility, this engaging novel, each section of which is written from a different woman's perspective, carries an unmistakable message." —Book

"The writing is strong, fluid, and sometimes laugh-out-loud funny." —Pioneer Press

"Valdes-Rodriguez' compelling characters are enhanced by their racial identities but not at all inaccessible to the non-Hispanic...an enjoyable read." —San Antonio Express-News

"Valdes-Rodriguez' novel delivers on the promise of its sexy title (with a) diverse group of women that defies stereotypes. The book addresses serious questions-prejudice, the difficulty of winning respect from Latino men-but balances them with enough romances...to satisfy any chick lit fan. This is a fun, irresistible debut." —Publishers Weekly
St. Martin's Griffin, 9780312318123, 336pp.
Publication Date: May 2, 2003
About the Author
Alisa Valdes-Rodriguez is an award-winning print and broadcast journalist and a former staff writer for both the Los Angeles Times and the Boston Globe. With more than one million books in print in eleven languages, she was included on Time magazine's list of "25 Most Influential Hispanics," and was a Latina magazine Woman of the Year as well as an Entertainment Weekly Breakout Literary Star. She is the author of many novels, including Playing with Boys and The Husband Habit. Alisa divides her time between New Mexico and Los Angeles.