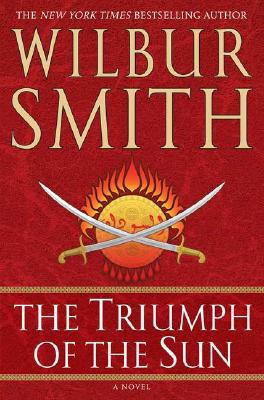 The Triumph of the Sun (Hardcover)
Thomas Dunne Books, 9780312318406, 512pp.
Publication Date: April 28, 2005
* Individual store prices may vary.
or
Not Currently Available for Direct Purchase
Description
From one of the world's most celebrated and bestselling novelists comes an epic adventure in the spirit and tradition of Monsoon and Blue Horizon.

It is 1884, and in the Sudan, decades of brutal misgovernment by the ruling Egyptian Khedive in Cairo precipitates a bloody rebellion and Holy War. The charismatic new religious leader, the Mahdi or "Expected One," has gathered his forces of Arab warlords in preparation for a siege on the city of Khartoum. The British are forced to intervene to protect their national interests and to attempt to rescue the hundreds of British subjects stranded in the city.

Along with hundreds of others, British trader and businessman Ryder Courtney is trapped in the capital city of Khartoum under the orders of the infamously iron-willed General Charles George Gordon. It is here that he meets skilled soldier and swordsman Captain Penrod Ballantyne of the 10th Hussars and the British Consul, David Benbrook, as well as Benbrook's three beautiful daughters. Against the vivid and bloody backdrop of the Arabs' fierce and merciless siege these three powerful men must fight to survive.

Rich with vibrant historical detail and infused with his inimitable powers of storytelling, The Triumph of the Sun is Wilbur Smith at his masterful best.
About the Author
Wilbur Smith was born in Central Africa. He has written thirty novels, all meticulously researched on his numerous expeditions worldwide. His books are now translated into twenty-six languages and have sold over eighty million copies.
Praise For The Triumph of the Sun…
Praise for Wilbur Smith:

"One of the world's most popular adventure writers." --The Washington Post Book World

"Only a handful of 20th century writers tantalize our senses as well as Smith. A rare author who wields a razor-sharp sword of craftsmanship."
--Tulsa World

"[Smith] paces his tale as swiftly as he can with swordplay aplenty and killing strokes that come like lightning out of a sunny blue sky."
--Kirkus Reviews

"Few novelists can write action scenes that all but leap off the page the way Smith can...." - Anniston Star (TX)

"Each time I read a new Wilbur Smith I say it is the best book I have ever read-until the next one." -Times Record News (Wichita Falls, TX)

"Smith is a master." - Publisher's Weekly

"Smith is a captivating storyteller." - Orlando Sentinel

"The world's leading adventure writer." - Daily Express UK

"Wilbur Smith rarely misses a trick." - Sunday Times UK




As popular as he is prolific, and as masterful a storyteller now as he has ever been, Smith once again visits Africa, the continent where he was born, the source of his inspiration, and the setting for his supremely adventuresome novels that make authentic and riveting use of history. He took readers to ancient Egypt in the marvelously wrought River God (1994), and now he returns there, this time in the late nineteenth century, at the apex of the Brtish Empire. Smith bases this tightly woven narrative on an actual incident in British colonial history: the holy war conducted by a Sudanese man proclaiming himself the Mahdi, or savior, and his forces' siege of the British garrison Khartoum, at the convergence of the White and Blue Nile in the Egyptian-held Sudan. Readers who appreciate World War II-era spy thrillers will enjoy this tale of espionage, disguise, and stabbings in the dark, as Smith deliciously elaborates on all the military and religious issues and events surrounding the sie

-Brad Hooper


Set in colonial Egypt at the end of Victoria's reign, this sweeping romantic epic reprises Smith regulars--scions of the Courteneys and Ballantynes. (The two fictional British families have provided character fodder for least half of Smith's 30 novels.) Bloodthirsty legions of Arab dervish troops under the command of the Mahdi, or ruling successor to the Prophet Muhammad, have surrounded (but not taken) Khartoum, trapping comely 17-year-old Rebecca Benbrook; her consul general father, David; and her younger twin sisters, Saffron and Amber. The appearance of a cargo boat owned by the dashing, entrepreneurial Ryder Courteney, as well as the subsequent appearance of Capt. Penrod Ballantyne of Her Majesty's 10th Hussars, give hope. Naïve Rebecca falls in love with Ballantyne, who deflowers her before racing off to warn the rescue force commander that the commander is outnumbered 25 to one. The dervish, led by the fearsome Emir Osman Atalan, overrun Khartoum, and Rebecca's father is brutally
Advertisement