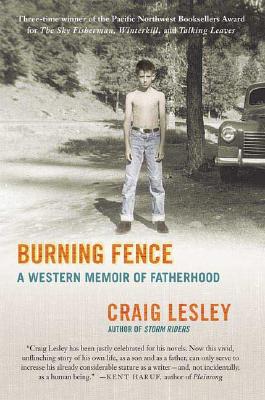 Burning Fence (Hardcover)
A Western Memoir of Fatherhood
St. Martin's Press, 9780312318468, 368pp.
Publication Date: August 11, 2005
Other Editions of This Title:
Paperback (8/22/2006)
* Individual store prices may vary.
Description
In "Burning Fence, " acclaimed novelist Craig Lesley turns his keen eye toward two difficult fathers and an alcohol-damaged Indian foster child, Craig's own "son," Wade. Abandoned by his shell-shocked father, Rudell, Craig grew up with his stepfather, Vern, a tough, controlling railroader. When events turned nasty, Craig, his mother, and his baby sister fled on the night train and arrived at an Indian reservation where his mother found work. Decades later, convinced he would be a better father than Rudell or Vern, Craig takes in the troubled Wade.
But desperation over Wade's violent acts motivates Craig to seek out Rudell in remote Monument, Oregon. Craig hopes his father, a reclusive coyote trapper and poacher, will help raise his disturbed grandson. There Craig meets his colorful half-brother, Ormand, a would-be East Coast hit man, now "born again."
Skillfully capturing the rural humor, rugged characters, and hardscrabble life of Eastern Oregon, "Burning Fence" presents a searing reflection on fatherhood and offers remarkable insight into the landscape of the Western heart.

About the Author
CRAIG LESLEY received the Pacific Northwest Booksellers Award for "The Sky Fisherman, ""Winterkill, " and "Talking Leaves." He teaches at Portland State University in Portland, Oregon, where he lives with his wife and two daughters.
Praise For Burning Fence: A Western Memoir of Fatherhood…
"Craig Lesley has been justly celebrated for his novels. Now this vivid, unflinching story of his own life, as a son and as a father, can only serve to increase his already considerable stature as a writer--and, not incidentally, as a human being."
--Kent Haruf, author of Plainsong

"I experienced Craig Lesley's Burning Fence as an addiction of sorts--everything else in my life got pushed off to the side so I could live in its pages. And I've stayed haunted by it, a product of its honest emotions and its honest prose. This memoir should expand Craig's audience and deepen the appreciation his current readers feel; it informs all the novels that precede it, but stands on its own as a seminal work of Western literature."

--David Guterson, author of Snow Falling on Cedars and Our Lady of the Forest

"Craig Lesley has long been one of my favorite novelists. Now, with Burning Fence, he has written an extraordinary memoir that shows the wonderful latitude of his writing skills and, not incidentally, speaks to the remarkable depth of the life experience that has informed his novels. This is a splendid work, beautifully told and deeply moving."
--Robert Olen Butler, Pulitzer Prize-winning author of A Good Scent from a Strange Mountain

"With the redoubtable storytelling skill that powers his memorable novels, Craig Lesley now takes us into the haunting central drama of his own life. His wry survivor's-eye view of a father and a stepfather who were not up to the task, and of his own gallant compensatory attempt to pull a foster son from the depths of fetal alcohol syndrome, is family drama of the highest order."
--Ivan Doig, author of This House of Sky

"Beyond the legends of the West and the fables of fatherhood, Craig Lesley's beautiful memoir, Burning Fence, comes forward with one man's personal truth. This memoir takes an unflinching look at three generations of men as they struggle with the tensions between fathers and sons and what it takes to create--and un-make--a family amid the macho mythos of the West. Lesley's lucid, compelling storyteller's voice recalls that of writers like Kent Haruf and Mark Spragg. One of his bravest and truest works to date."
--Diana Abu-Jaber, author of The Language of Baklava and Crescent

"What an amazingly generous and haunting memoir this is! Craig Lesley has given us a book that is as powerful as it is precise--a work that is somehow restrained and yet abundant. This book must be rationed, it is so powerful."
--Rick Bass, author of The Diezmo

"Burning Fence is at once deeply moving, nightmarish on almost every level, and-- I can't figure it out myself-- extraordinarily funny in the goofiest of all ways. In other words, a quintessential tale of Fatherhood in Crazy America."
--Carolyn See

"Burning Fence is a vividly realized country memoir. Craig Lesley is intimate with denied ambitions, the heartbreak of living poor and out of the loop in rural America, and the cracked humor with which the disenfranchised so often respond. If you want to understand what's going on in the backlands of our nation, begin by reading this."
--William Kittredge, author of The Nature of Generosity and The Best Short Stories of William Kittredge






or
Not Currently Available for Direct Purchase