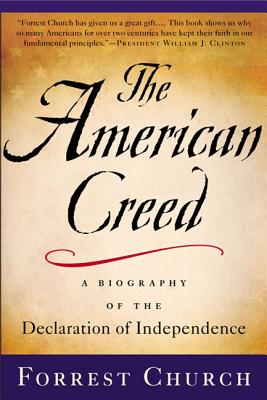 The American Creed
A Biography of the Declaration of Independence
Paperback

* Individual store prices may vary.
Description
What makes us all Americans--whatever our differences--is adherence to a creed, a creed based upon cornerstone truths the founders believed "self-evident." From the earliest days, the survival of the new republic hinged not merely upon the expression of these grand principles of liberty and equality but upon their spiritual underpinnings. Freedom and faith were intertwined. America, as a foreign observer once put it, is a nation with the soul of a church.
In this stirring and timely book, Forrest Church charts the progress of this creed from the America's beginnings to the present day by evoking those whose words-whether in declarations, songs, inaugural addresses, speeches, or prayers-have expressed its letter and captured its spirit. What emerges is our shared destiny. Martin Luther King, Jr.'s dream that this country might someday "rise up and live out the true meaning of its creed," echoes Thomas Jefferson's belief that "equal and exact justice to all" is the "creed of our political faith." Our connection with the past represents our commitment to the future and vice versa.
A "spiritual and patriotic primer," The American Creed distills the essence of American history while also matching its sweep. Church lets the story of the Declaration of Independence unfold before our eyes, giving us both the big picture and the details that place it into brilliant focus. Those steeped in our nation's heritage will find fresh insight and renewed purpose. Those still discovering its riches could have no finer introduction. In its scope and embrace, this is a book for us all.
Praise For The American Creed: A Biography of the Declaration of Independence…
"Forrest Church has given us a great gift---a way to understand the meaning of America in spiritual terms that requires us to acknowledge the Founders' wisdom in permitting us the freedom to worship, or not, according to the dictates of our own conscience. This book shows us why so many Americans for over two centuries have kept their faith in our fundamental principles, in our continuing mission to form a more perfect union; and, in richly diverse ways, in a Divine Creator." —President William J. Clinton
"I wish that every American would read and ponder this important book. Forrest Church has become our preminent preacher of faith and freedom" —George McGovern
"The American Creed is a thoughtful and appealing interpretation of the ideals that hold us together as Americans. This is patriotism of the highest quality." —Arthur Schlesinger, Jr.
"At a time when many Americans are searching for a spiritual meaning in our national life, Forrest Church points to the co-inherence of faith and freedom in this vivid retelling of 'the lively experiment' that is America. Written with passion and insight, this book stirs up to thinks and moves us to be grateful." —Timothy George, Dean of Beeson Divinity School and editor of Christianity Today
St. Martin's Griffin, 9780312320232, 180pp.
Publication Date: December 1, 2003
About the Author
Forrest Church is senior minister at All Souls Unitarian Church in New York City. He has written or edited twenty books, including The Jefferson Bible, Restoring Faith: America's Religious Leaders Answer Terror with Hope, and, most recently, Bringing God Home: A Traveler's Guide. He lives with his family in New York.