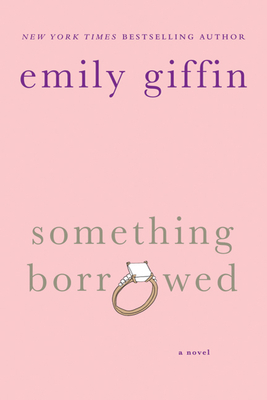 Something Borrowed (Paperback)
A Novel
St. Martin's Griffin, 9780312321192, 352pp.
Publication Date: April 1, 2005
Other Editions of This Title:
Digital Audiobook (4/27/2009)
Digital Audiobook (4/27/2009)
Paperback (3/29/2011)
Mass Market (3/27/2012)
Hardcover (3/27/2012)
Paperback (3/29/2011)
Paperback (5/1/2011)
Paperback (4/1/2010)
* Individual store prices may vary.
Description
Something Borrowed

Emily Giffin


The smash-hit debut novel for every woman who has ever had a complicated love-hate friendship.

Rachel White is the consummate good girl. A hard-working attorney at a large Manhattan law firm and a diligent maid of honor to her charmed best friend Darcy, Rachel has always played by all the rules. Since grade school, she has watched Darcy shine, quietly accepting the sidekick role in their lopsided friendship. But that suddenly changes the night of her thirtieth birthday when Rachel finally confesses her feelings to Darcy's fiance, and is both horrified and thrilled to discover that he feels the same way. As the wedding date draws near, events spiral out of control, and Rachel knows she must make a choice between her heart and conscience. In so doing, she discovers that the lines between right and wrong can be blurry, endings aren't always neat, and sometimes you have to risk everything to be true to yourself.
About the Author
Emily Giffin is the author of Something Borrowed, her smash-hit debut novel that was made into a major motion picture. She is also the author of Something Blue, Baby Proof, Love the One You're With, and Heart of the Matter. Giffin is a graduate of Wake Forest University and the University of Virginia School of Law. After practicing litigation at a Manhattan firm for several years, she moved to London to write full time. She lives in Atlanta with her husband and children.
Praise For Something Borrowed: A Novel…
"A modern-day Jane Austen." —Vanity Fair

"What kind of self-described 'nice girl' would sleep with her best friend's fiancé? One who's seriously flawed, like this delightful debut novel's heroine, but also surprisingly winning and real." —Glamour

"This page-turning, heartbreakingly honest debut...deftly depicts the hopeful hearts behind an unsympathetic situation." —Entertainment Weekly

"Both hilarious and thoughtfully written, resisting the frequent tendency of first-time novelists to make their characters and situations a little too black-and-white. You may never think of friendships - their duties, the oblique dances of power and their give-and-take - quite the same way again." —Seattle Times

"A thrill to read." —Washington Post

"Sharply observed and beautifully etched." —Newark Star-Ledger

"Dead-on dialogue, real-life complexity and genuine warmth." —Seattle Post-Intelligencer

"Forget 'Bergdorf Blondes.' The [book] you want in your bag this year is Emily Giffin's SOMETHING BORROWED. It's smarter, less arch and more believable." —San Francisco Chronicle