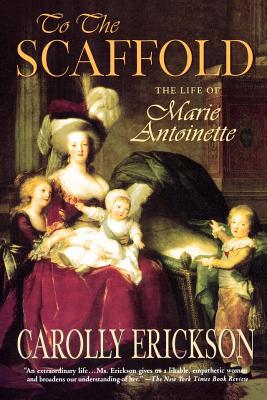 To the Scaffold (Paperback)
The Life of Marie Antoinette
St. Martin's Griffin, 9780312322052, 384pp.
Publication Date: July 1, 2004
* Individual store prices may vary.
Description
One of history's most misunderstood figures, Marie Antoinette represents the extravagance and the decadence of pre-Revolution France. Yet there was an innocence about Antoinette, thrust as a child into the chillingly formal French court.
Married to the maladroit, ill-mannered Dauphin, Antoinette found pleasure in costly entertainments and garments. She spent lavishly while her overtaxed and increasingly hostile subjects blamed her for France's plight. In time Antoinette matured into a courageous Queen, and when their enemies finally closed in, Antoinette followed her inept husband to the guillotine in one last act of bravery.
In To the Scaffold, Carolly Erickson provides an estimation of a lost Queen that is psychologically acute, richly detailed, and deeply moving.
About the Author
Distinguished historian Carolly Erickson is the author of Rival to the Queen, The Memoirs of Mary Queen of Scots, The First Elizabeth, The Hidden Life of Josephine, The Last Wife of Henry VIII, and many other prize-winning works of fiction and nonfiction. Her novel The Tsarina's Daughter won the Romantic Times Reviewer's Choice Award for Best Historical Fiction. She lives in Hawaii.
Praise For To the Scaffold: The Life of Marie Antoinette…
"Carolly Erickson brings [an] immediacy and easy intimacy to her study." —Los Angeles Times Book Review
"For lovers of history or lovers of a great romantic story, this book is a must." —Louisville Courier-Journal