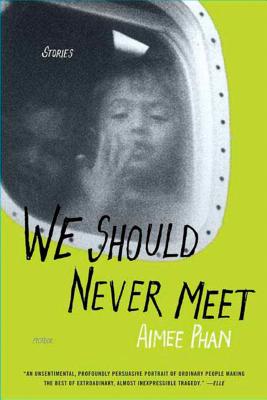 We Should Never Meet (Paperback)
Stories
Picador, 9780312322670, 256pp.
Publication Date: November 15, 2005
* Individual store prices may vary.
Description
The eight linked stories that comprise Aimee Phan's chilling debut are inspired by "Operation Babylift," the evacuation of thousands of orphans from Vietnam to America weeks before the fall of Saigon. Moving effortlessly between the war-torn homeland and Orange County's "Little Saigon," Phan chronicles the journeys of four such orphans. Passionate and beautifully written, We Should Never Meet is an utterly fresh reconsideration of the Vietnam War for a new generation and heralds the arrival of one of "the very best of the new wave of Asian-American authors" (David Wong Louie).
About the Author
Aimee Phan grew up in Orange County, California, and now teaches in the MFA Writing Program and Writing and Literature Program at California College of the Arts. A 2010 National Endowment of the Arts Creative Writing Fellow, Aimee received her MFA from the Iowa Writer's Workshop, where she won a Maytag Fellowship. Her first book, WE SHOULD NEVER MEET, was named a Notable Book by the Kiryama Prize in fiction and a finalist for the 2005 Asian American Literary Awards. Her writing has appeared in The New York Times, USA Today, and The Oregonian among others.
Praise For We Should Never Meet: Stories…
"With almost plainsong dialogue and unornamented description that takes you straight to the troubled hearts of these people . . . Phan [builds] an unsentimental, profoundly persuasive portrait of ordinary people making the best of extraordinary, almost inexpressible tragedy." —Elle
"Remarkable . . . The stories are indelible yet float past you . . . many complicated issues are brought to life here." —San Francisco Chronicle
"Phan charts [these] journeys with acuity, sensitivity, [and] wisdom." —Los Angeles Times
"Phan accomplishes what only a true artist can: she gives voice to the voiceless and makes them speak for us all. This is a thrillingly important book." —Robert Olen Butler
"There is nothing more satisfying for readers than having an author take them to a place they think they know, and then showing them how very little they actually do." —Hartford Courant
or
Not Currently Available for Direct Purchase