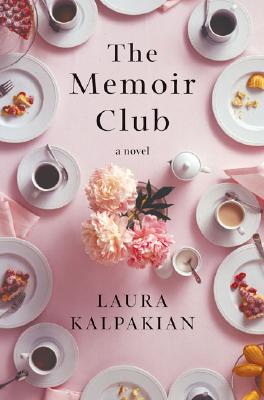 The Memoir Club (Hardcover)
St. Martin's Press, 9780312322755, 288pp.
Publication Date: March 24, 2005
Other Editions of This Title:
Paperback (3/24/2005)
* Individual store prices may vary.
Description
Six women, each with her own misgivings, take a university Extension night class in Writing Your Memoir, looking only for a little bibliotherapy. The following semester, they meet privately; the memoir class becomes the Memoir Club. In coming to terms with their losses, with their own guilt - in writing to break through that stubborn, opaque barrier to the past - they forge a new present. And a new future. Their teacher, the enigmatic Penny Taylor, steps in at the right moment and steps out before her students can thank her.

In the beginning, grief-stricken Dr. Caryn Henley only goes to the class at the insistence of her longtime friend, Nell, a woman so loyal that behind her back people call her "the St. Bernard." Rusty Meadows wants to write a memoir for a daughter she gave up at birth. Mrs. Francine Hellman wants her memoir to laud her late husband, the scientist Dr. Marcus Hellman, only to find he had a past unknown to her. The elderly, unconventional Sarah Jane Perkins writes to come to terms with the cruelties her rigid mother inflicted on her artistic, bootlegging father. And Korean-born Jill McDougall comes to the memoir class to find out who she is, and why she's living in a warehouse with a man who loves ice cream. These students of the memoir achieve what they set out to do, but discover what they never expected. Then an act of violence alters their lives forever.
About the Author
Laura Kalpakian is an award-winning novelist who has received a National Endowment of the Arts, a Pushcart Prize, the Pacific Northwest Booksellers Association Award, and the PEN/West Award for Best Short Fiction. She lives in the Pacific Northwest.
Praise For The Memoir Club…
"When you read Laura Kalpakian, you are in the capable and tender hands of a master, and The Memoir Club is proof of her well-honed craft. It is a feat of brilliant execution, with multilayered plots like those of our real lives, and with characters who captivated me with their pasts and presents, as if we were all spellbound in my own living room. The truth-- it is a remarkable novel".
-Susan Straight, author of Highwire Moon

"Laura Kalpakian has a craft, a magic like no other writer. She wends her thoughtful, inspired narratives, her richly created characters, her genuine and alive dialogue into a reader's soul with such skill, taking you by surprise - sometimes with an entire paragraph, sometimes with a simple sentence. I have never been disappointed by anything Laura Kalpakian has written - far from it: my reader's blood races when I hear she has something new for me."
- Alaine Borgias, Village Books, Bellingham, WA

"Beautifully written, intensely interesting and absorbing, Laura Kalpakian masterminds her material with triumphant ease and sympathy."
- Elizabeth Buchan, author of A Perfect Love

"This ninth novel from the talented Laura Kalpakian is so entertaining that readers will be blindsided by its emotional depth....By the time the women all come together in a triumphant final scene, there won't be a dry eye in the house. A natural for bookclubs."
- Booklist

"Laura Kalpakian is an author to love. Not many fiction writers are as fearless as she is...[The Memoir Club is a ] complex, moving novel...What Kalpakian digs up here is literary gold, a novel to warm your heart. Her characters are her strength, and these are some of her best."
- The Bellingham Herald

"Kalpakian has delivered a finely crafted story..."
- The Seattle Times-Post Intelligencer

"[Kalpakian] deals thoughtfully with some sensitive subjects...The Memoir Club is a finely constructed story."
- The Boston Globe

"Kalpakian artfully streams a swirl of engaging subplots through the reader's imagination...good old-fashioned storytelling...The Memoir Club is entertaining and memorable."
- The Olympian (Olympia, WA)

"Kalpakian has hit upon a terrific narrative device. She handles the women's different voices with assurance, and weaves them together to reveal surprising parallels and complementary patterns.... Good old-fashioned storytelling with likable characters grappling with the sorts of issues and regrets we all recognize. The Memoir Club is entertaining and memorable."
- Bremerton Sun
or
Not Currently Available for Direct Purchase