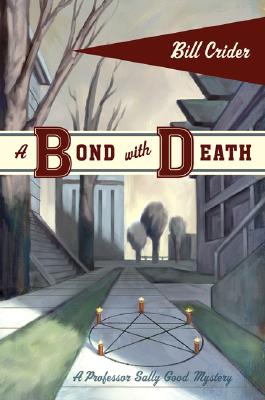 A Bond with Death (Hardcover)
A Professor Sally Good Mystery
Minotaur Books, 9780312322960, 224pp.
Publication Date: October 14, 2004
* Individual store prices may vary.
Description
Sally's husband has been dead for eight years; his remote ancestor, the witch Sarah Good, died on the scaffold in Salem more than four hundred years ago. Yet the president of Sally's college is afraid the story will reflect on the institution.

Sally is annoyed. Sarah Good wasn't her ancestor; she was the forbear of Sally's dead husband. That the president of a college should be concerned that one of his faculty might be thought the descendant of a woman who was hanged as a witch four hundred years ago seems ludicrous to her.

In one way, the president has reason to be concerned. Their town is in a very conservative part of Texas---a considerable number of citizens are trying to get the Harry Potter books removed from the library. Now a bond issue for the college is coming up, and nothing is more important to the president than to get it approved.

Returning to her office, Sally learns from her boyfriend that "the Garden Gnome" has been murdered. The Garden Gnome (so-called because he looks like one) was consistently honored by the students, who gave him the worst evaluations any faculty member had ever received, and Sally was eventually effective in securing his departure. Nor does it help her that he was one of the staunchest opponents of the bond issue. With the aid of the Internet, most of the local population have convinced themselves that Mrs. Sally Good and "Witch" Sarah Good are practically one and the same---maybe Sally is a reincarnation of "her" ancestor. And you know what witches can do.

With the help of her lover, Jack, and some complications thrown up by a covey of wiccans ("No, no, it's a religion. We are not witches"), Sally may avoid being hanged, but it certainly looks like she is in real trouble.
About the Author
Bill Crider is chair of the English department at Alvin Community College in Alvin, Texas. He is the author of the Sheriff Dan Rhodes series; two mystery series set at small-town colleges---the Sarah Good novels and the Carl Burns books---several other mystery series; and three standalone mystery novels. He lives in Alvin with his wife, Judy.
or
Not Currently Available for Direct Purchase