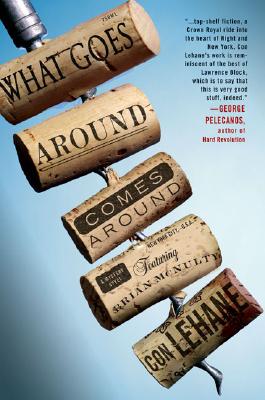 What Goes Around Comes Around
A Mystery Novel Featuring Bartender Brian McNulty
Hardcover

* Individual store prices may vary.
Description
What Goes Around Comes Around follows the adventures of Brian McNulty, the red-diaper-baby bartender who (abetted by his father and son) attempts to keep Manhattan's crime solved and cocktail glasses brimming. Filling in for a friend at the fancy East Side saloon and eatery called The Ocean Club, McNulty finds more than he bargained for: a body floating in the East River.

Combining complex characters with strikingly offbeat perspectives on left versus right, old versus new, and the good guys versus the bad guys, What Goes Around Comes Around is the stunning follow-up to Lehane's series debut.
Praise For What Goes Around Comes Around: A Mystery Novel Featuring Bartender Brian McNulty…
"Top-shelf fiction, a Crown Royal ride into the heart of Night and New York. Con Lehane's work is reminiscent of the best of Lawrence Block, which is to say that this is very good stuff, indeed."
- George Pelecanos, author of Hard Revolution

"Reading What Goes Around Comes Around is like a marathon pub-crawl with a world-class raconteur, only without the skull-cracker of a headache the next morning. Con Lehane is a first class writer with a real command of character and a rare sense of place."
- Scott Phillips, author of The Ice Harvest

"Sparkles with insight. Even better, smells like New York. For a guy who isn't me, Con Lehane can really write."
- Kinky Friedman, author of Prisoner of Van Dam Street

"In this vivid depiction of the wiseguys and poor sods who drift through his flawed hero's bar, Con Lehane also shows us their modest hopes and dreams . . . There are no easy solutions in McNulty's world."
- Margaret Maron, author of Bootlegger's Daughter

"The story starts with the body of a man in a tux floating in the East River. Then Con Lehane takes you on a wild cab ride through the late-late night world only the bartenders know about. You hold on, spinning, careening full circle to an ending I never saw coming. This is a rich, wonderful read."
- Ed Dee, author of The Con Man's Daughter

"[An] arresting cast of colorful characters . . . [Con Lehane] brings alive the dark, offbeat world behind the facade of luxury hotels and bars."
- Publishers Weekly

"Mainstream prose, clever plotting, and a sympathetic hero recommend this sequel . . . . Devotees of Lawrence Block's Matthew Scudder hard-boiled series may enjoy."
- Library Journal

"[P]lenty of elbow-bending action and seedy ambience to relish in these pages . . . . Its author's own experience behind the plank lends the McNulty series resonance, and the characters here are satisfyingly sculpted and frequently comic. Brian McNulty boasts the spirited potential of a long-cellared cabernet. Let's see what adventures he can uncork next."
- J. Kingston Pierce, Amazon.com

"[S]uperb . . . New York noir at its finest. What Goes Around Comes Around, reminiscent of Lawrence Block at the top of his game in the Matt Scudder books, is a novel to be savored."
- Mystery Lovers Book Store (Oakmont, Pennsylvania)

"A great follow up to Beware the Solitary Drinker. Con Lehane has a wonderful voice and has already earned a place at a bar filled with great mystery writers."
- Mystery One Bookstore (Milwaukee, Wisconsin)

"Con Lehane delivers a moody view of New York City from atmospheric bars to Greenwich Village streets and a glimpse of an Atlantic City that no longer exists. What Goes Around Comes Around proves that Lehane has a feel for sculpting colorful characters."
- Tucson Daily Star

"Brian is an interesting character. . . . Lehane draws upon his personal experiences as a bartender to breathe life and realism into the characters and settings of his novels. What Goes Around Comes Around is an entertaining addition to the Brian McNulty series."
- New Mystery Reader

"Brian McNulty is a barman par excellence . . . What Goes Around Comes Around is a wild Cook's Tour of the seamier side of New York City life, with a couple of shootings, several knifings, death by overdose, and about every kind of dope you can imagine . . . Lehane's specialty is his description of the nighttime denizens of the Big Apple, especially those who hover around its bars. New Yorkers, especially, will enjoy this novel."
- I Love a Mystery

"Con Lehane writes about trade union troubles in New York City with authority. One can sense the smells and sounds of McNulty's neighborhood. . . . What Goes Around Comes Around will make one thirsty for the third book in this fine series."
- BookReporter.com

"The writing is often lyrical, sometimes brooding, evoking in this reader nostalgia for the streets of long-ago Brooklyn, and richly capturing the flavor of New York in some of its seedier areas. Lehane keeps the suspense going until nearly the last page, the path a winding one, and the reader is swept along, right alongside Brian. Recommended."
- Gloria Feit, DorothyL web site

"Lehane knows New York inside out, and lets this knowledge of the city's grimy underbelly and bar culture shine through . . . . If you like Lawrence Block's Scudder novels this book's for you."
- Sarah Weinman, Confessions of an Idiosyncratic Mind web blog
Minotaur Books, 9780312322984, 304pp.
Publication Date: January 13, 2005
About the Author
Con Lehane grew up in the suburbs of New York City and currently writes from just outside of Washington, DC, where he lives with his wife and two sons. Once a college professor, union organizer, and bartender, Lehane is now an editor at the National Education Association. He holds a Master of Fine Arts degree in fiction writing from Columbia University School of the Arts. "What Goes Around Comes Around" is his second novel in the Brian McNulty mystery series.
or
Not Currently Available for Direct Purchase