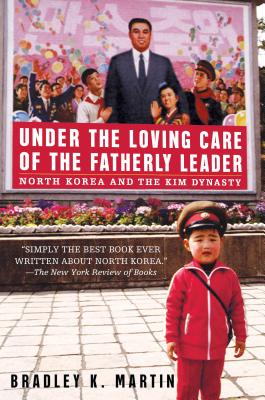 Under the Loving Care of the Fatherly Leader
North Korea and the Kim Dynasty
Paperback

* Individual store prices may vary.
Other Editions of This Title:
Hardcover (9/23/2004)
Description
Under the Loving Care of the Fatherly Leader offers in-depth portraits of North Korea's two ruthless and bizarrely Orwellian leaders, Kim Il-Sung and Kim Jong-Il. Lifting North Korea's curtain of self-imposed isolation, this book will take readers inside a society, that to a Westerner, will appear to be from another planet. Subsisting on a diet short on food grains and long on lies, North Koreans have been indoctrinated from birth to follow unquestioningly a father-son team of megalomaniacs.
To North Koreans, the Kims are more than just leaders. Kim Il-Sung is the country's leading novelist, philosopher, historian, educator, designer, literary critic, architect, general, farmer, and ping-pong trainer. Radios are made so they can only be tuned to the official state frequency. "Newspapers" are filled with endless columns of Kim speeches and propaganda. And instead of Christmas, North Koreans celebrate Kim's birthday--and he presents each child a present, just like Santa.
The regime that the Kim Dynasty has built remains technically at war with the United States nearly a half century after the armistice that halted actual fighting in the Korean War. This fascinating and complete history takes full advantage of a great deal of source material that has only recently become available (some from archives in Moscow and Beijing), and brings the reader up to the tensions of the current day. For as this book will explain, North Korea appears more and more to be the greatest threat among the Axis of Evil countries--with some defector testimony warning that Kim Jong-Il has enough chemical weapons to wipe out the entire population of South Korea.
Praise For Under the Loving Care of the Fatherly Leader: North Korea and the Kim Dynasty…
"Under the Loving Care of the Fatherly Leader is, from all I have read, simply the best book ever written about North Korea. Relying largely on extensive interviews with defectors, Martin portrays North Korean life with a clarity that is stunning, and he captures the paradoxes in North Korean public opinion." —Nicholas D. Kristof, The New York Review of Books
"Martin's massive book provides as useful a set of insights into life in North Korea as can be found anywhere." —L.A. Times Review
"As an AP correspondent covering South Korea in the 1970s, I learned quickly how difficult it was to discover any reliable information about that secretive, threatening regime to the north. Brad Martin's book is testimony to the thoroughness of his work, and the high level of his ability as a journalist and researcher.
North Korea is one of the least known, least understood countries in the world. Its leaders have always been enigmas, both frightening and fascinating, but almost impossible to decipher. Again today, it becomes vitally important that we do both, yet there is almost nothing of importance being written about the subject. Under the Loving Care of the Fatherly Leader is important, as well as fascinating. The research is impeccable, the writing excellent. This is a major and timely contribution, and essential to anyone who hopes to deal sensibly with a vital region of the world." —Terry Anderson, former AP correspondent and author of Den of Lions
"Brad Martin's Under the Loving Care of the Fatherly Leader, a careful, penetrating analysis of North Korea, is more than just a book. Given the levels of secrecy which surround the Pyongyang regime and the danger it poses to its neighbors, Martin has rendered a considerable service to us all." —Bestselling author, David Halbertstam
"Brad Martin's book on North Korea is at once enlightening and frightening. It is lucid in writing, balanced in analysis, and comprehensive in its meticulous research and anecdotal evidence. The detailed exposition of the narrow life of luxury and the devious character of the 'Dear Leader,' Kim Jong-il, is scary. So is the description of North Korea as a corrupt, secretive, stagnant fief of the Kim family. Brad Martin, with his long years as a Pyongyang-watcher, is eminently qualified to write a book that should strip away any illusions America and the West have about Kim's dangerous regime." —Richard Halloran, former correspondent for The New York Times in Asia and Washington, D.C.
St. Martin's Griffin, 9780312323226, 912pp.
Publication Date: January 10, 2006
About the Author
As a journalist, Bradley K. Martin has covered Korea and other parts of Asia for a quarter century, including stints as bureau chief for The Baltimore Sun, The Asian Wall Street Journal, Newsweek, Asia Times (for which he wrote a "Pyongyang Watch" column), and Asian Financial Intelligence. Since 1979, he has had four prolonged stays in North Korea and more direct access to the country than most any other American journalist. He is currently a journalist in residence at Louisiana State University. He is the author of Under the Loving Care of the Fatherly Leader.
or
Not Currently Available for Direct Purchase