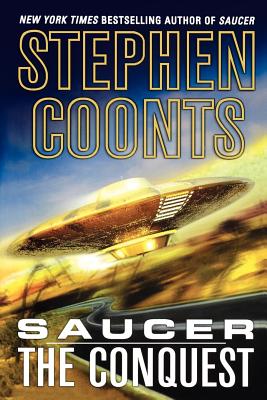 Saucer (Paperback)
The Conquest: The Conquest
St. Martin's Griffin, 9780312323622, 352pp.
Publication Date: September 2, 2004
* Individual store prices may vary.
Description
Bestselling author Stephen Coonts took fans by surprise with the phenomenal and heart-pounding tale of Saucer. Now Rip Cantrell and Charley Pine are back for seconds with with Saucer: The Conquest.
Rip Cantrell is brought back to give the saucer one last flight. Charley Pine has started flying for a rich French tycoon, and there is believed to be another downed saucer somewhere in the area. Rip can't quite get over the fact that Charley has dumped him. But when push comes to shove Rip and the United States Government are going to go head to head with this crazy Frenchman in trying to be the first to the saucer.
As Stephen Coonts proved in his last outing, there is a great deal of high-flying adventure to be found in the Saucer series. And this one not only promises all the excitement of the last one, but it delivers with much, much more.
About the Author
Stephen Coonts is the author of The Disciple, The Assassin, and the Deep Black and Saucers series, among many other bestsellers. His first novel, the classic flying tale Flight of the Intruder, spent more than six months at the top of The New York Times bestseller list. A motion picture based on the book was released in 1991. His novels have been published around the world and translated into more than a dozen languages. In 1986, he was honored by the U.S. Naval Institute with its Author of the Year Award. He is also the editor of four anthologies, Combat, On Glorious Wings, Victory and War in the Air. Coonts served in the Navy from 1969 to 1977, including two combat cruises on the USS Enterprise during the last years of the Vietnam War.
Praise For Saucer: The Conquest: The Conquest…
"Coonts knows how to write and build suspense." —The New York Times Book Review
"Tough to put down." —Publishers Weekly
"A comic, feel-good sf adventure." —Kirkus Reviews
"Coonts is a natural storyteller." —USA Today