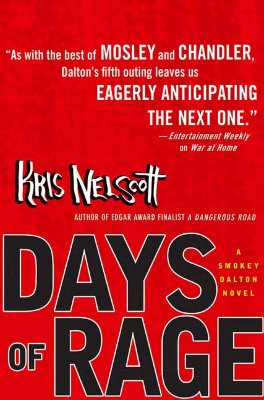 Days of Rage (Hardcover)
Minotaur Books, 9780312325299, 352pp.
Publication Date: March 7, 2006
Other Editions of This Title:
Paperback (12/16/2013)
MP3 CD (5/10/2016)
* Individual store prices may vary.
Description
It's 1969 and the city of Chicago is in turmoil. The celebrity trial of the Chicago Eight---charged with inciting a riot at the 1968 Democratic National Convention---has begun. Protests abound over the trial and the conflict has caught the attention of everyone from the Black Panthers to city gangs to local trade unions.

Meanwhile, African-American P.I. Smokey Dalton and his adopted son, Jimmy, are keeping a low profile. They've been on the run from their native Memphis since Jimmy witnessed the assassination of Martin Luther King, Jr., but have slowly settled into a steady life in Chicago. Smokey continues to accept cases and to inspect property for Sturdy Investments, the real-estate company owned by Laura Hathaway, his on-again, off-again girlfriend.

But the delicate balance in Smokey's daily life is threatened when he makes a horrible discovery in a house he's inspecting. Does what they've found have any connection to Laura's business, and her father, who used to run it? Is it evidence of a long-ago killer, and if so, how has it remained buried for so long? Or is it something that could threaten Smokey---and Jimmy, and Laura---today? Smokey must answer all these questions before the truth about what he's found is discovered by someone willing to kill to keep it secret, while the violent chaos surrounding "the trial of the century" whirls around them.
About the Author
Kris Nelscott lives on the Oregon coast. The first Smokey Dalton novel, "A Dangerous Road," won the Herodotus Award for Best Historical Mystery and was shortlisted for the Edgar Award for Best Novel; the second, "Smoke-Filled Rooms," was a PNBA Book Award Finalist; the third, "Thin Walls," was one of the "Chicago Tribune"'s best mysteries of the year; the fourth, "Stone Cribs," was honored by the Wisconsin Library Association as one of the best books of 2005, and it and the fifth, "War at Home," were both shortlisted for the Oregon Book Award. Visit her Web site at www.kristinekathrynrusch.com.
Praise For Days of Rage…
Praise for the Novels of Kris Nelscott

War at Home
"A gripping read . . . As with the best of Mosley and Chandler, Dalton's fifth outing leaves us eagerly anticipating the next one."
--Entertainment Weekly

"Nelscott excels at setting a scene, and her evocation of student unrest during that unsettled time is sharp and memorable."
--The Seattle Times

Stone Cribs
"Kris Nelscott can lay claim to the strongest series of detective novels now being written by an American author."
--Salon.com

Thin Walls
"A triumphant series . . . Gripping . . . Nelscott's books about Dalton have already been compared favorably to Walter Mosley's Easy Rawlins series. The big difference is that Easy Rawlins has bought into the Los Angeles land-owning dream, while Smokey Dalton, a more militant avenging angel, mostly wants to stay alive and right the terrible wrongs he has seen."
--Chicago Tribune

Smoke-Filled Rooms
"Nelscott brings it all back, and it's hair-raising."
--The Washington Post

"Superb . . . This series has all the passion and precision of Walter Mosley's early Easy Rawlins novels, but it is not derivative. Smokey just may be a more compelling character than the celebrated Easy."
--Booklist (starred review)

A Dangerous Road
"Nelscott has an absorbing story to tell, and she does it justice."
--The Philadelphia Inquirer
or
Not Currently Available for Direct Purchase