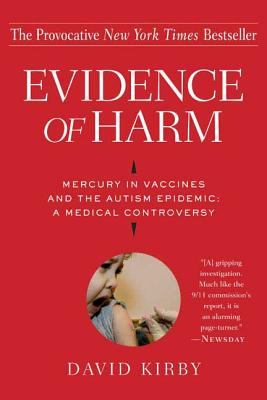 Evidence of Harm
Mercury in Vaccines and the Autism Epidemic: A Medical Controversy
Paperback

* Individual store prices may vary.
Other Editions of This Title:
Hardcover (3/24/2005)
Description
In the 1990s reported autism cases among American children began spiking, from about 1 in 10,000 in 1987 to a shocking 1 in 166 today. This trend coincided with the addition of several new shots to the nation's already crowded vaccination schedule, grouped together and given soon after birth or in the early months of infancy. Most of these shots contained a little-known preservative called thimerosal, which includes a quantity of the toxin mercury.
Evidence of Harm explores the heated controversy over what many parents, physicians, public officials, and educators have called an "epidemic" of afflicted children. Following several families, David Kirby traces their struggle to understand how and why their once-healthy kids rapidly descended into silence or disturbed behavior, often accompanied by severe physical illness. Alarmed by the levels of mercury in the vaccine schedule, these families sought answers from their doctors, from science, from pharmaceutical companies that manufacture vaccines, and finally from the Center for Disease Control and the Food and Drug Administration-to no avail. But as they dug deeper, the families also found powerful allies in Congress and in the small community of physicians and researchers who believe that the rise of autism and other disorders is linked to toxic levels of mercury that accumulate in the systems of some children.
An important and troubling book, Evidence of Harm reveals both the public and unsung obstacles faced by desperate families who have been opposed by the combined power of the federal government, health agencies, and pharmaceutical giants. From closed meetings of the FDA, CDC, and drug companies, to the mysterious rider inserted into the 2002 Homeland Security Bill that would bar thimerosal litigation, to open hearings held by Congress, this book shows a medical establishment determined to deny "evidence of harm" that might be connected with thimerosal and mercury in vaccines. In the end, as research is beginning to demonstrate, the questions raised by these families have significant implications for all children, and for those entrusted to oversee our national health.
Praise For Evidence of Harm: Mercury in Vaccines and the Autism Epidemic: A Medical Controversy…
"Evidence of Harm is a gripping investigation. Much like the 9/11 commission's report, it is an alarming page-turner." —Newsday
"Read this book! Could thimerosal, a mercury-containing preservative used in pediatric vaccines, be the cause of the world-wide epidemic of autism? David Kirby's superb, even-handed account of the investigation into this ongoing, high-stakes controversy is fascinating and compelling. The poignant personal accounts of the families of autistic children are heart-wrenching. A thoroughly researched, well written, and important book." —Bernard Rimland, director of the Autism Research Institute and founder of the Autism Society of America
St. Martin's Griffin, 9780312326456, 512pp.
Publication Date: February 21, 2006
About the Author
DAVID KIRBY is the author of Evidence of Harm, which was a New York Times bestseller, winner of the 2005 Investigative Reporters and Editors award for best book, and a finalist for the New York Public Library Helen Bernstein Award for Excellence in Journalism; Animal Factory, an acclaimed investigation into the environmental impact of factory farms; and Death at SeaWorld, a scientific thriller about the lives of killer whales in captivity and the people who fought for their liberation. He lives in New York City.