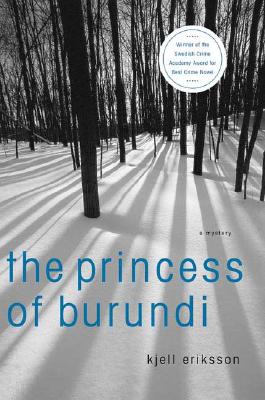 The Princess of Burundi (Hardcover)
Minotaur Books, 9780312327675, 304pp.
Publication Date: February 7, 2006
* Individual store prices may vary.
or
Not Currently Available for Direct Purchase
Description
A runaway bestseller in Sweden, The Princess of Burundi introduces Inspector Ann Lindell to U.S. mystery readers. When a jogger finds a dead body in the snow, the members of Sweden's Uppsala police force uncover a victim with an unsettling history. John Jonsson, known to everyone as Little John, was a respectable family man and a local expert on tropical fish. But he had been quite a troublemaker, and his delinquent past seems to have caught up with him. Despite being on maternity leave, Inspector Ann Lindell is determined to find John's murderer. The cruel cat-and-mouse game that follows leads Ann to a deadly confrontation with a treacherous killer. Ann must decide whether to take a huge risk that could result in many more dead bodies in the snow, including hers and that of her unborn child. Written by one of Sweden's bestselling crime writers, The Princess of Burundi is an outstanding American debut.
About the Author
Kjell Eriksson is a Swedish author whose crime debut, "The Illuminated Path, "was named Best First Novel of 1999 by the Swedish Crime Academy. "The Princess of Burundi" won Best Swedish Crime Novel in 2002. Eriksson's novels are bestsellers in Sweden, and his popularity is skyrocketing in Germany, Denmark, Italy, Norway, and the Netherlands. He lives in Uppsala, Sweden.
Praise For The Princess of Burundi…
"Riveting...in tone and spirit, The Princess of Burundi resembles the books of Maj Sjowall and Per Wahloo, not to mention those of the modern master Henning Mankell."- Wall Street Journal "The chill is on in The Princess of Burundi...a stunning depiction of the impact of murder on a working-class community."- Marilyn Stasio, The New York Times "The mystery is engrossing, but what sets this import apart is its lefty heart."- People (3 1/2 stars) "Imagine, if you will, an episode of 'CSI: Sweden'...location is one of the many gratifying surprises to be had from Kjell Eriksson's The Princess of Burundi. Eriksson's plot is ingenious without being improbable, and his narrative manages to be exhilaratingly propulsive and rich in convincing psychological insight and engrossing details. Very satisfying reading."- Los Angeles Times "Intelligently crafted, perpetually suspenseful and deeply insightful...[Eriksson's] sensibility is reminiscent of that of another great Swedish crime writer, Henning Mankell."- San Francisco Chronicle "Masterful...one can't help being eager for more from this welcome newcomer."- Sarah Weinmann, Baltimore Sun "The brilliance of Eriksson's richly detailed crime novel lies in its psychological and even sociological insights. Eriksson not only reveals a deep, sympathetic understanding for his large cast of characters but also evokes a pervasive sense of despair, reminiscent of Henning Mankell's. This suspenseful, intelligent and perceptive book is terrific."- Publishers Weekly (starred review) "Could Eriksson become Sweden's Ed McBain? This solid police procedural, winner of the Swedish Crime Academy Award for Best Crime Novel, is reminiscent of the "87th Precinct" series. Don't miss it."- Library Journal (starred review) "Subtle characters and precise prose will keep readers interested until the surprising solution. Erikkson won the award for Best Swedish Crime Novel, and deservedly so."- Kirkus Reviews "Eriksson takes his cue from Ed McBain, portraying a group of investigators very much in the 87th Precinct vein.... Solid procedural plotting overlaid with a sensitive rendering of inner lives and emotions held in check beyond the breaking point."- Booklist "A deep psychological thriller...the characterization is top rate.... Fans will enjoy the exciting tale and look forward to hopefully more translations of the works of Kjell Eriksson."- Midwest Book Review
Advertisement