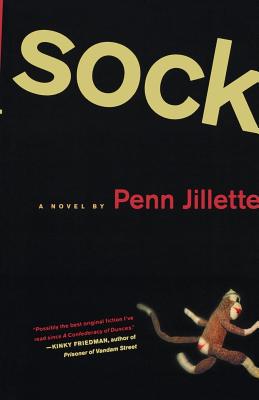 Sock (Paperback)
A Novel
St. Martin's Griffin, 9780312328054, 208pp.
Publication Date: July 1, 2004
* Individual store prices may vary.
Description
Twisting the buddy cop story upside down and inside out, Penn Jillette has created the most distinctive narrator to come along in fiction in many years: a sock monkey called Dickie. The sock monkey belongs to a New York City police diver who discovers the body of an old lover in the murky waters of the Hudson River and sets off with her best friend to find her killer. The story of their quest swerves and veers, takes off into philosophical riffs, occasionally stops to tell a side story, and references a treasure trove of 1970's and 1980's pop culture.
Sock is a surprising, intense, fascinating piece of work.
About the Author
Penn Jillette has been the larger, louder half of the performing team Penn & Teller since 1975. He is the author of the novel SOCK and, with Teller, the bestselling author of CRUEL TRICKS FOR DEAR FRIENDS and HOW TO PLAY IN TRAFFIC.
Praise For Sock: A Novel…
"[Jillette] writes the way he talks, in a sort of blizzard of smart-alecky, philosophical wit, but adds a pop-song allusion to nearly every paragraph; perhaps the only thing like his style is Stephen King streaming the consciousness of one of his crazed, possessed lowlifes...Sock is socko!" —Booklist