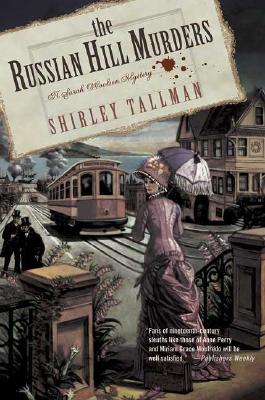 The Russian Hill Murders (Hardcover)
A Sarah Woolson Mystery
Minotaur Books, 9780312328573, 288pp.
Publication Date: June 16, 2005
Other Editions of This Title:
Paperback (7/15/2005)
MP3 CD (7/1/2005)
Compact Disc (7/1/2005)
Compact Disc (7/1/2005)
Audio Cassette (7/1/2005)
* Individual store prices may vary.
Description
Though her own San Francisco law firm barely tolerates her, gutsy young attorney Sarah Woolson flouts proper feminine behavior in this nineteenth-century answer to Legally Blonde. While her mother begs her to settle down, her chauvinistic boss tries to come up with ever more spiteful ways to pressure his only female associate into quitting. Naturally, Sarah digs in her heels and vows to retain her position at any cost. Besides, she has no intention of straying too far from the action.
When the wife of wealthy society entrepreneur Leonard Godfrey drops dead of an apparent heart attack at a charity dinner for the new Women and Children's Hospital, Sarah's curiosity gets the better of her. But no one will believe in her theory that Caroline Godfrey's death was not natural---until several more people affiliated with the hospital die of inexplicable causes.
Meanwhile, when a pregnant widow whose husband has died in a sweatshop fire asks for Sarah's help in finding the owner so that she can sue for recompense, our feisty heroine insists on taking the case against her boss's orders. With the help of her colleague Robert Campbell and an eager young hansom cabdriver named Eddie, Sarah goes on a manhunt for Killy Doyle, the menacing head of the factory underworld. But she can't ignore the mysterious deaths at the Women and Children's Hospital---especially when the hospital's Chinese chef is arrested for the murders and the Chinese community's most powerful Tong Lord asks her to defend him.
Faced with her first criminal trial, Sarah stops at nothing to determine the killer's identity. But in trying to exonerate her client, she places her own life in danger. Will Sarah figure out who the murderer is, or will she be the final victim?
About the Author
Shirley Tallman and her husband, Bob, divide their time between Eugene, Oregon, and Incline Village, Nevada, where she continues to work as a novelist and screenwriter.
or
Not Currently Available for Direct Purchase