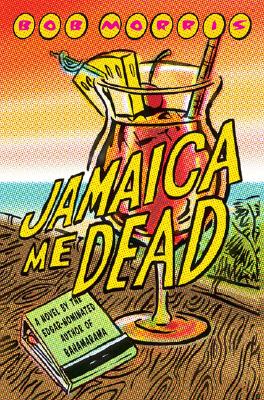 Jamaica Me Dead (Hardcover)
Minotaur Books, 9780312328917, 304pp.
Publication Date: September 22, 2005
* Individual store prices may vary.
or
Not Currently Available for Direct Purchase
Description
It's opening game of the football season at Florida Field, and Monk DeVane, a former teammate of Zack Chasteen's, invites Zack and his girlfriend to a halftime party in one of the exclusive skyboxes. But they find chaos---there's a bomb under the chair of Darcy Whitehall, Monk Devane's boss and the rakish Jamaican owner of Libido, a chain of anything-goes Caribbean resorts.

The bomb turns out to be a dud, but someone is putting the squeeze on Darcy Whitehall, and Monk DeVane enlists Zack to help protect his employer. When Zack arrives in Jamaica things quickly go to hell---more bombs (this time, for real), gnarly Jamaican politics, and the kinky diversions at Libido, where the prime spectator sport is watching guests frolic on the naked flume ride. As if that weren't enough, Zack's snooping around puts him in jeopardy with Freddie Arzghanian, king of the Caribbean money launderers.

Suspenseful, laugh-out-loud funny, and with larger-than-life characters, Jamaica Me Dead is Bob Morris at his wicked best.
About the Author
Bob Morris, a former columnist for the "Orlando"" Sentinel, ""Fort Myers"" News-Press" and "The New York Times" regional newspapers, served as editor of "Caribbean Travel & Life "and "Gulfshore Life "magazines. His work regularly appears in "National Geographic Traveler, ""Islands"," The Robb Report, Bon Appetit, "and other publications. He lives in Winter Park, Florida, where he is at work on his next book, "Bermuda"" Schwartz. "Visit his Web site at www.bobmorris.net.
Praise For Jamaica Me Dead…
"I was wondering when Bob Morris would finally get around to writing a novel, and it was worth the wait. Bahamarama is sly, smart, cheerfully twisted, and very funny. Morris is a natural."
---Carl Hiaasen, New York Times bestselling author of Skin Tight

"Bob Morris, a terrific writer and pure Florida boy, has created a marvelous tale that perfectly captures the nation's strangest state. Like Florida itself, Bahamarama is wild, weird, unpredictable, populated by exotic denizens--and funny as hell."
---Dave Barry, New York Times bestselling author and Pulitzer Prize winner

"Hard-boiled, edgy debut novel . . . An array of colorful locals gives the story some much-needed texture, while juicy plotting keeps this impressive page-turner simmering. Morris has produced an accomplished first novel with a priceless final scene."
---Publishers Weekly




"Morris has ably woven kidnapping plots, subplots, a promiscuous heiress, a Taino medicine man, and even a hurricane together to keep the pages turning."
---Caribbean Travel & Life

"A breezy, energetic debut . . . should be the start of a long series. Morris's wry sense of humor, coupled with a bit of cynicism, crisp dialogue, and seasoned view of Florida and the Bahamas, give an extra punch to Bahamarama."
---South Florida Sun-Sentinel

"The plot swerves with each swell caused by an incoming hurricane. Abundant Caribbean descriptions, amazing characters, unremitting wry humor, and a strong protagonist flavor this tempting first novel. Carl Hiaasen, Tim Dorsey, and Randy Wayne White fans will be reserving this one."
---Library Journal
Advertisement