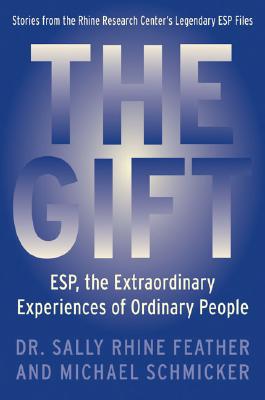 The Gift (Hardcover)
ESP, the Extraordinary Experiences of Ordinary People
St. Martin's Press, 9780312329198, 304pp.
Publication Date: April 21, 2005
* Individual store prices may vary.
Description
Can some people really see the future, read other peoples' minds, or psychically observe events unfold, as they happen, even when they take place hundreds or even thousands of miles away from them? Yes, they can, declares clinical psychologist Dr. Sally Rhine Feather, daughter of the late, renowned ESP researcher Dr. J.B. Rhine, whose pioneering laboratory experiments at Duke University brought scientific credibility to paranormal research.

Using real case histories from the Rhine Research Center's ever-growing database of more than 14,000 ESP reports - the world's largest collection of ESP experiences - Dr. Feather will share with you fascinating psychic experiences that cover a broad range of types, from avoiding injuries and accidents to predicting the death of family members; from finding stolen cars and lost pets to catching cheating spouses; from winning bets and contests to foreseeing the bombing of Pearl Harbor in 1941 and the 9-11 terrorist attack on America.

A trained parapsychologist as well as psychologist, using the stories of more than 200 ESP experiencers, Dr. Feather explains what ESP is and how it operates through dreams, intuition, and visual and auditory hallucinations. She explains the compelling scientific evidence for the reality of ESP, covers the research on precognition, clairvoyance and telepathy from more than 50 years of laboratory experiments, including the latest research on the fascinating role played by our personality, our psychological, physical and emotional states in terms of helping or hindering ESP. Dr. Feather examines the psychological impact such unusual experiences can have on your life and offers you helpful rules for successfully integrating these ESP experiences into your life.

A 2001 Gallup Poll found that half of all Americans believe ESP is real, and 65 million Americans have personally experienced ESP. These stories of the extraordinary experiences of ordinary people will intrigue and inspire you as well as convince you that a "sixth sense" is within the power of our minds.
About the Author
DR. SALLY RHINE FEATHER, an experimental and clinical psychologist, is the daughter of the founders of the Parapsychology Lab at Duke University. She is a director of the Rhine Research Center in Durham, North Carolina.

MICHAEL SCHMICKER is the author of Best Evidence. He lives in Hawaii.
Praise For The Gift: ESP, the Extraordinary Experiences of Ordinary People…
" A fascinating and readable book, reminding us in this age of rampant materialism and consumerism that our greatest treasure is not things but the human mind."-Charles Tart, Ph.D., author of Altered States of Consciousness.

"The greatest mystery in the universe is human consciousness, and these extraordinary human experiences reveal the reach of the human mind is awesome indeed. Highly recommended." -Larry Dossey, M.D., author of Reinventing Medicine.

"The Gift is a collection of insights and experiences that we all may experience, but are not often shared with others."-John Edward, author of Crossing Over.

"As the daughter of the founders of scientific parapsychology, Dr. Sally Feather grew up in a home where ESP was not only discussed but accepted as a fact of life. As a director of the Rhine Research Institute, Dr. Feather and her associates are attempting to understand this puzzling phenomenon, and this book provides some of the pieces that need to be put together. From the spontaneous nighttime dream to the controlled, scientific laboratory experiment, from the intuitive hunch to the mental focus required of participants in a rigorous investigation, Dr. Feather provides her readers with suspense, drama, a sense of wonder, and any number of surprises. There is no better introduction to the controversial world of ESP and why it continues to be a fascinating and frustrating enigma."-Stanley Krippner, Ph.D., Professor of Psychology, Saybrook Graduate School and Co-editor, Varieties of Anomalous Experience

"A wonderful book, filled with fascinating stories from the world's largest collection of ESP cases."-Rupert Sheldrake, Ph.D., author of Dogs That Know When Their Owners Are Coming Home And Other Unexplained Powers of Animals and The Sense of Being Stared At


"The Gift is truly a gift to all of us, illuminating an extraordinary psychological ability we all share."-C. Norman Shealy, M.D., Founder, American Holistic Medical Association

"The Gift belongs at the top of the list of books on psychic experiences that are both educational as well as stimulating." -Rhea A. White, founder, Exceptional Human Experience Network
or
Not Currently Available for Direct Purchase