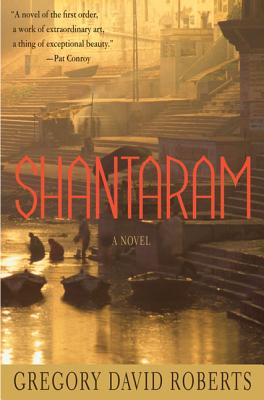 Shantaram
A Novel
Hardcover

* Individual store prices may vary.
Other Editions of This Title:
Digital Audiobook (12/9/2013)
Paperback (10/1/2005)
Digital Audiobook, Spanish, Castilian (7/12/2021)
Description
Now a major television series from Apple TV+ starring Charlie Hunnam!

"It took me a long time and most of the world to learn what I know about love and fate and the choices we make, but the heart of it came to me in an instant, while I was chained to a wall and being tortured."

An escaped convict with a false passport, Lin flees maximum security prison in Australia for the teeming streets of Bombay, where he can disappear. Accompanied by his guide and faithful friend, Prabaker, the two enter the city's hidden society of beggars and gangsters, prostitutes and holy men, soldiers and actors, and Indians and exiles from other countries, who seek in this remarkable place what they cannot find elsewhere.

As a hunted man without a home, family, or identity, Lin searches for love and meaning while running a clinic in one of the city's poorest slums, and serving his apprenticeship in the dark arts of the Bombay mafia. The search leads him to war, prison torture, murder, and a series of enigmatic and bloody betrayals. The keys to unlock the mysteries and intrigues that bind Lin are held by two people. The first is Khader Khan: mafia godfather, criminal-philosopher-saint, and mentor to Lin in the underworld of the Golden City. The second is Karla: elusive, dangerous, and beautiful, whose passions are driven by secrets that torment her and yet give her a terrible power.

Burning slums and five-star hotels, romantic love and prison agonies, criminal wars and Bollywood films, spiritual gurus and mujaheddin guerrillas—this huge novel has the world of human experience in its reach, and a passionate love for India at its heart.
Praise For Shantaram: A Novel…
"Shantaram is a novel of the first order, a work of extraordinary art, a thing of exceptional beauty. If someone asked me what the book was about, I would have to say everything, every thing in the world. Gregory David Roberts does for Bombay what Lawrence Durrell did for Alexandria, what Melville did for the South Seas, and what Thoreau did for Walden Pond: He makes it an eternal player in the literature of the world." —Pat Conroy

"Shantaram has provided me with the richest reading experience to date and I don't expect anybody to unseat its all-round performance for a long time. It is seductive, powerful, complex, and blessed with a perfect voice. Like a voodoo ghost snatcher, Gregory David Roberts has captured the spirits of the likes of Henri Charrière, Rohinton Mistry, Tom Wolfe, and Mario Vargas Llosa, fused them with his own unique magic, and built the most gripping monument in print. The land of the god Ganesh has unchained the elephant, and with the monster running amok, I tremble for the brave soul dreaming of writing a novel about India. Gregory David Roberts is a suitable giant, a dazzling guru, and a genius in full." —Moses Isegawa, author of Abyssinian Chronicles and Snakepit

"Shantaram is, quite simply, the 1001 Arabian Nights of the new century. Anyone who loves to read has been looking for this book all their reading life. Anyone who walks away from Shantaram untouched is either heartless or dead or both. I haven't had such a wonderful time in years." —Jonathan Carroll, author of White Apples

"Shantaram is dazzling. More importantly, it offers a lesson...that those we incarcerate are human beings. They deserve to be treated with dignity. Some of them, after all, may be exceptional. Some may even possess genius." —Ayelet Waldman, author of Crossing the Park

"Utterly unique, absolutely audacious, and wonderfully wild, Shantaram is sure to catch even the most fantastic of imaginations off guard." —Elle

"Shantaram had me hooked from the first sentence. [It] is thrilling, touching, frightening...a glorious wallow of a novel." —Detroit Free Press

"[A] sprawling, intelligent novel…full of vibrant characters…the exuberance of his prose is refreshing…Roberts brings us through Bombay's slums and opium houses, its prostitution dens and ex-pat bars, saying, You come now. And we follow." —The Washington Post

"Inspired storytelling." —People

"Vivid, entertaining. Its visceral, cinematic descriptive beauty truly impresses." —USA Today

"Few stand out quite like Shantaram …nothing if not entertaining. Sometimes a big story is its own best reward." —The New York Times

"...very good...vast of vision and breadth." —Time Out

"This massive autobiographical novel draws heavily from Roberts' vida loca. Don't let the size scare you away – Shantaram is one of the most gripping tales of personal redemption you'll ever read." —Giant Magazine

"This reviewer is amazed that Roberts is here to write anything. Swallowed up by the abyss, somehow he crawled out intact….His love for other people was his salvation…Powerful books can change our lives. The potency of Shantaram is the joy of forgiveness. First we must regret, then forgive. Forgiveness is a beacon in the blackness." —Dayton Daily News

" Shantaram is loads of colorful fun, [it] rises to something grand in its evocations of the pungent chaos of Bombay. " —Minneapolis Star Tribune

"Shantaram is a true epic. It is a huge, messy, over-the-top irresistible shaggy-dog story." —The Seattle Times
St. Martin's Press, 9780312330521, 944pp.
Publication Date: October 13, 2004
About the Author
Gregory David Roberts, the author of Shantaram and its sequel, The Mountain Shadow, was born in Melbourne, Australia. Sentenced to nineteen years in prison for a series of armed robberies, he escaped and spent ten of his fugitive years in Bombay—where he established a free medical clinic for slum-dwellers, and worked as a counterfeiter, smuggler, gunrunner, and street soldier for a branch of the Bombay mafia. Recaptured, he served out his sentence, and established a successful multimedia company upon his release. Roberts is a now full-time writer and lives in Bombay.