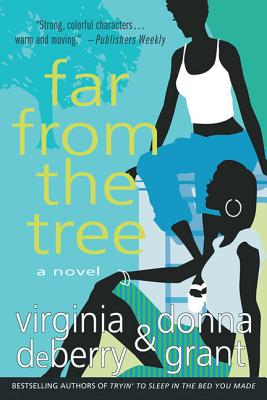 Far from the Tree (Paperback)
A Novel
St. Martin's Griffin, 9780312330910, 368pp.
Publication Date: May 4, 2004
* Individual store prices may vary.
Description
Celeste English and Ronnie Frazier are sisters, but they couldn't be more different. Celeste is a doctor's wife, living a perfect and elegant life. But secretly, she is terrified: her marriage is falling apart and her need to control the people around her threatens to alienate her entire family. And Celeste allows no one to see how vulnerable she really is. Ronnie is an actress, living in New York. Her life, however, is a lie: she has no money, has no home, and her life is held together by "chewing gum, paper clips, and spit," though she wants everyone to think that her life is one of high glamour and budding fame. When their father dies, the sisters inherit a house in Prosper, North Carolina. Their mother, Della, is adamant that they forget about going there and dredging up the past. Because Della has secrets she'd rather not see come to light-secrets and heartbreak she's kept from everyone for years. Neither Ronnie, Celeste, nor Della realize just what their trip to Prosper will uncover and they must discover for themselves who they really are, who they really love, and what the future holds for them. Far From The Tree is a novel that asks the questions: can the past ever truly remain hidden? Can mothers and daughters put aside their usual roles long enough to get to really know each other? Long enough to see they each have felt the love, loss, heartache and joy that they share as women. And can two strangers realize that they are, and always will be, sisters?
About the Author
Donna Grant is a bestselling, award-winning author. She met Virgina DeBerry while they were both working as models, and what should have been a rivalry ended up as a decades-long friendship. Donna lives in Brooklyn, NY.

Virginia DeBerry is a bestselling, award-winning author. With her co-writer Donna Grant, she is the author of Tryin' to Sleep in the Bed You Made, which won the Merit Award for Fiction from the Black Caucus of the American Library Association, as well as the 1998 Book of the Year Award from the Blackboard Bestseller List. They are also the authors of Far From the Tree and Better Than I Know Myself, both Essence bestsellers. A graduate of SUNY at Buffalo, Virginia worked for 10 years as a high school English teacher in Buffalo, before moving to New York to start a successful career as a plus size model. She met Donna while they were both working as models, and what should have been a rivalry ended up as a decades-long friendship. Virginia lives in New Jersey.