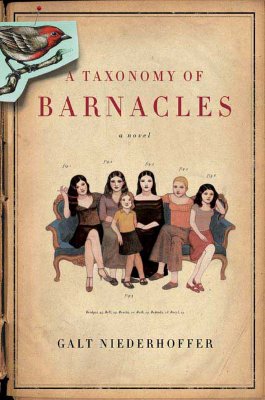 A Taxonomy of Barnacles (Hardcover)
St. Martin's Press, 9780312334833, 384pp.
Publication Date: December 27, 2005
* Individual store prices may vary.
or
Not Currently Available for Direct Purchase
Description
The Barnacle sisters--Bell, Bridget, Benita, Beryl, Belinda and Beth--have been raised by their eccentric, self-made father in a fabulous, gigantic Fifth Avenue apartment that, encrusted with Barry Barnacle's scientific collections, feels like a little piece of the Museum of Natural History transplanted to the other side of Central Park. Now that most of the sisters have come of age, Barry Barnacle proposes a contest, a test of wits and wills that should at long last settle what is to Barry the most essential of all questions: nature, or nurture? Whichever of his daughters can most spectacularly carry on his name will inherit his fortune; the others are out cold.

It's a proposition to set a Jane Austen heroine on her ear, but the Barnacle girls are up to the challenge. Throw the girls' mother Bella and their childhood crushes--the Finch twins next door--into the mix and the stage is set for a completely inventive and utterly fresh social comedy that is as beautifully written as it is unique.
About the Author
Galt Niederhoffer started her own film production company in her early twenties, and has produced three award-winning Sundance movies. She lives in New York City.
Praise For A Taxonomy of Barnacles…
"God, or possibly Darwin, proves to be in the details in A TAXONOMY OF BARNACLES. With great wit and imagination, Niederhoffer invites us into an Upper East Side apartment that is as extravagant and inventive as the family it houses." -- Claire Danes, actress

"The Barnacles are no ordinary family, and Galt Niederhoffer is no ordinary writer...A charming and wacky comedy of manners (and sisters.)."--Lucinda Rosenfeld, author of WHAT SHE SAW and WHY SHE WENT HOME

"A TAXONOMY OF BARNACLES is a wise and witty take on some essential conflicts, such as man versus woman, child versus parent, nature versus nurture, and of course, the most important, Yankees versus Red Sox."--Sam Lipsyte, author of HOMELAND

"Rich in poignant detail, Niederhoffer paints a fascinating portrait of six sisters engageed in the mercilesss age-old fist-fight, struggling to love and best each other in turn."--Nicola Krause, co-author of THE NANNY DIARIES

"A delightfully clever and romantic screwball comedy…Niederhoffer pays sparkling homage to fairy tales, King Lear, Austen, and Nora Ephron in this charming and sly spoofing of the concept of the survival of the fittest, and the nature-versus-nurture debate." -- Booklist

"Droll and sophisticated, Galt Niederhoffer's first novel is a winning screwball comedy... B+" Entertainment Weekly
Advertisement