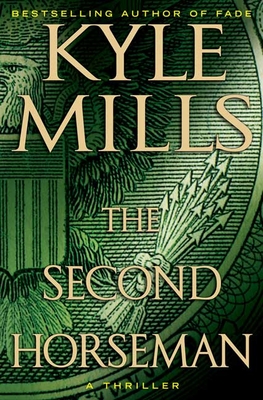 The Second Horseman (Hardcover)
St. Martin's Press, 9780312335755, 304pp.
Publication Date: August 8, 2006
* Individual store prices may vary.
Description
Brandon Vale is a career thief---the best there is. Or at least he was before he was thrown in prison for a jewel heist gone bad. And even more embarrassing, he had nothing to do with it. His time inside is going fairly quietly until the night he's broken out against his will by Richard Scanlon, the now-retired FBI agent who framed him in the first place.
 Scanlon, who still has ties to the United States intelligence community, has discovered that a Ukrainian crime organization is auctioning twelve nuclear warheads to the highest bidder, but he can't convince the government that the sale isn't a hoax. The only way he can get his hands on the $200 million necessary to take the warheads off the market is to do something that goes against everything he stands for: steal it.
 The choice Brandon is given is simple: help Scanlon and hope to live through it, or turn himself in and face the repercussions of his "escape."
 Suddenly, Brandon finds himself with only weeks to plan a Las Vegas heist that that he's been dreaming about for years, but has always thought was probably impossible. And to make matters worse, Scanlon insists on choosing his team personally. Led by the relentlessly intelligent and undeniably beautiful Catherine Juarez, not a single one of the former government operatives he picks has so much as shoplifted a pack of gum in their lives.
 As the day of the heist approaches, Brandon's carefully constructed plans begin to break down and he suspects that the elaborate double-cross he's devised to save himself could cost millions of lives. He finally has to ask himself just how far he's willing to be dragged into a game that he can only lose.
 With this heart-stopping, all-too-real novel, Kyle Mills proves once again that he is one of the freshest and most original thriller writers working today.
About the Author
Kyle Mills grew up in Oregon but, as the son of an FBI agent, he has lived all over the country and overseas. He is the author of seven novels: "Rising Phoenix," "Storming Heaven," "Free Fall," "Burn Factor," "Sphere of Influence," "Smoke Screen, " and" Fade." An avid rock climber, he and his wife now live in Wyoming. Visit him online at www.kylemills.com.
Praise For The Second Horseman…
"Edge-of-seat quotient: Sky-high."
---Entertainment Weekly

"The perfect thriller for the emerging millennium . . . What makes this novel such a delicious summer treat is the way in which Mills turns the reader's expectations inside out. . . . The twists are surprising and fun, and the story comes to a bang-up conclusion."
---Denver Post

"Mills's prose is crisp and his action skills are top-notch. In Fade, he has created a true thriller hero for the present and the immediate future."
---Publishers Weekly (starred review)

"A thriller that manages to retain the Cold War staples readers have come to expect from the genre while remaining relevant to the post-9/11 landscape . . . this is a story for today."
---Houston Chronicle

"Kyle Mills is a master of the page-turner. His attention to detail and his smooth style will keep you reading well into the night."
---Vince Flynn, author of Memorial Day

"Lead character Salam Al Fayed---Fade---is a first-ballot certainty for the Thriller Hall of Fame."
---Lee Child, author of The Enemy

"Kyle Mills has created in Salam al Fayed, aka Fade, a disturbing, complex and wholly original character. Fade will stay with you long after you have finished this well-crafted thriller."
---Stephen Frey, author of Shadow Account

"Frighteningly real and powerful, Fade by Kyle Mills hurls the reader into a dark journey into the human soul. With suspense as taut as a dead man's smile, Mills blends fiction and fact in a heart-stopping, spellbinding tale of espionage and politics that is not only convincingly real but vastly entertaining."
---Gayle Lynds, author of The Coil
or
Not Currently Available for Direct Purchase