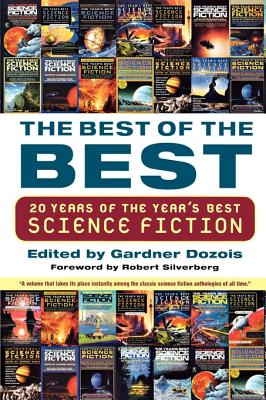 The Best of the Best: 20 Years of the Year's Best Science Fiction (Paperback)
20 Years of the Year's Best Science Fiction
St. Martin's Griffin, 9780312336561, 688pp.
Publication Date: February 1, 2005
Description
For years, The Year's Best Science Fiction has been the most widely read short science fiction anthology of its kind. Now, after twenty-one annual collections, comes the ultimate in science fiction anthologies, The Best of the Best: 20 Years of the Year's Best Science Fiction, in which legendary editor Gardner Dozois selects the very best short stories for this landmark collection. Contributors include: * Stephen Baxter * Greg Bear * William Bigson * Terry Bisson * Pat Cadigan * Ted Chiang * John Crowley * Tony Daniel * Greg Egan * Molly Gloss * Eileen Gunn * Joe Haldeman * James Patrick Kelly * John Kessel * Nancy Kress * Ursula K. Le Guin * Ian R. MacLeod * David Marusek * Paul McAuley * Ian McDonald * Maureen F. McHugh * Robert Reed * Mike Resnick * Geoff Ryman * William Sander * Lucius Shepard * Robert Silverberg * Brian Stableford * Bruce Sterling * Charles Stross * Michael Swanwick * Steven Utley * Howard Waldrop * Walter Jon Williams * Connie Willis * Gene Wolfe
With work spanning two decades, The Best of the Best stands as one of the ultimate science fiction anthologies ever published.
About the Author
Gardner Dozois has won the Hugo Award for Best Editor twelve times. The editor of Asimov's SF magazine since 1986, he lives in Philadelphia, Peensylvania.
Praise For The Best of the Best: 20 Years of the Year's Best Science Fiction…
"Gardner Dozois's Year's Best Science Fiction anthology, an annual volume of gigantic size and awesome range, has after twenty years become a wondrous trove of great stories and an archive that has immeasurable historical significance. Now Dozois has selected the best of the best."
- Robert Silverberg

"If a science fiction fan from 1984 chanced to stumble into a time warp and pop up in the here and now, and wanted to know what had been happening in his favorite genre in the last twenty years, all you'd need to do was hand him a copy of Gardner Dozois's Best of the Best. This is two decades of the best that science fiction has to offer, chosen by the most respected editor in the field...a copy belongs on the shelf of every SF reader."
- George R. R. Martin, bestselling author of A Game of Thrones

"The short story is the heart of science fiction, and editor Gardner Dozois understands more about the short story and about science fiction than anybody else, which is what's made this series so terrific! But now, to have Gardner's picks for The Best of the Best collected all in one volume is beyond terrific! It'll make nonreaders of science fiction realize why the genre has so many devoted fans, and the readers of science fiction hyperventilate. This is the cream of the cream of the crop! And all in one place! I cannot wait to read it!"
- Connie Willis, winner of many Hugo and Nebula awards

"For more than a quarter century, Gardner Dozois's TheYear's Best Science Fiction has defined the field. It is the most important anthology, not only annually but overall."
- Charles N. Brown, publisher of Locus Magazine

"The title says it all. If you like science fiction, you need this book! Gardner Dozois is the savviest editor alive, and his picks are brilliant, thought-provoking, and immensely entertaining. Sell your grandmother if you must, but buy this book!"
- Michael Swanwick, winner of the Hugo, Nebula, World Fantasy, and Theodore Sturgeon awards

"Dozois's 'Best of the Year' volumes have had consistently high literary quality. I've used them as a primary text for twenty years, teaching SF writing at MIT, and they always give the students interesting examples of the huge variety of stories that live under the SF tent."
- Joe Haldeman, Hugo and Nebula Award-winning author of The Forever War

"There is no one better qualified to edit this book. If Gardner Dozois says these are the best of the best, you can bet the farm on it. The best and most honored editor of the past twenty years selects the best and most honored stories of the past twenty years. It's a natural."
- Mike Resnick, Hugo and Nebula Award-winning author of Santiago
Advertisement