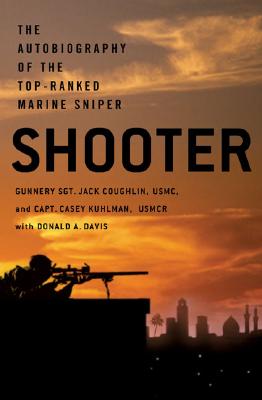 Shooter (Hardcover)
The Autobiography of the Top-Ranked Marine Sniper
St. Martin's Press, 9780312336851, 320pp.
Publication Date: April 28, 2005
Other Editions of This Title:
Paperback (5/2/2006)
Mass Market (5/2/2006)
Audio Cassette (7/1/2005)
Audio Cassette (8/1/2005)
Compact Disc (8/1/2005)
MP3 CD (8/1/2005)
Compact Disc (7/1/2005)
* Individual store prices may vary.
Description
With more than sixty confirmed kills, Jack Coughlin is the Marine Corps' top-ranked sniper. Shooter is his harrowing first-person account of a sniper's life on and off the modern battlefield.
Gunnery Sgt. Jack Coughlin is a divorced father of two who grew up in a wealthy Boston suburb. At the age of nineteen, although he had never even held a gun, he joined the Marines and would spend the next twenty years behind the scope of a long-range precision rifle as a sniper.
In that time he accumulated one of the most successful sniper records in the Corps, ranging through many of the world's hotspots. During Operation Iraqi Freedom alone, he recorded at least thirty-six kills, thirteen of them in a single twenty-four-hour period.
Now Coughlin has written a highly personal story about his deadly craft, taking readers deep inside an invisible society that is off-limits to outsiders. This is not a heroic battlefield memoir, but the careful study of an exceptional man who must keep his sanity while carrying forward one of the deadliest legacies in the U.S. military today.
About the Author
Gunnery Sergeant Jack Coughlin was with the Third Battalion, Fourth Regiment Marines during the drive to Baghdad and has operated on a wide range of assignments in hotspots around the world.

Captain Casey S. Kuhlman retired from the Marines after the Iraq War.

Donald A. Davis is the author of fifteen books, including three New York Times bestsellers.
Praise For Shooter: The Autobiography of the Top-Ranked Marine Sniper…
"The 3rd Battalion has a veteran sniper, Staff Sergeant Jack Coughlin, for whom the war in Iraq was only the latest of many wars; he fought in Mogadishu, too. On the first day of battle at the Diyala Bridge, he had eleven kills. He is one of the best snipers in the Marine Corps, perhaps the very best. When I asked one of his commanders about his skills, the commander smiled and said, 'I'm just glad he's on our side.' "
---Peter Maas, war correspondent and bestselling author of Love Thy Neighbor
or
Not Currently Available for Direct Purchase