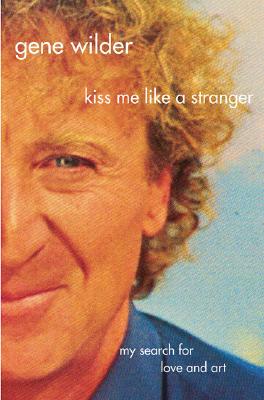 Kiss Me Like A Stranger (Hardcover)
My Search for Love and Art
St. Martin's Press, 9780312337063, 272pp.
Publication Date: February 24, 2005
Other Editions of This Title:
Digital Audiobook (2/28/2005)
Paperback (3/7/2006)
Paperback (6/1/2006)
* Individual store prices may vary.
Description
In this personal book from the star of many beloved and classic film comedies -- from The Producers to Young Frankenstein, Blazing saddles to Willy Wonka and the Chocolate Factory -- Gene Wilder writes about a side of his life the public hasn't seen on the screen. Kiss Me Like a Stranger is not an autobiography in the usual sense of the word, and it's certainly not another celebrity "tell-all." Instead, Wilder has chosen to write about resonant moments in his life, events that led him to an understanding of the art of acting, and -- more important -- to an understanding of how to give love to and receive love from a woman.
Wilder writes compellingly about the creative process on stage and screen, and divulges moments from life on the sets of some of the most iconic movies of our time.
In this book, he talks about everything from his experiences in psychoanalysis to why he got into acting and later comedy (his first goal was to be a Shakespearean actor), and how a Midwestern childhood with a sick mother changed him. Wilder explains why he became an actor and writer, and about the funny, wonderful movies he made with Mel Brooks, Woody Allen, Richard Pryor, and Harrison Ford, among many others. He candidly reveals his failures in love, and writes about the overwhelming experience of marrying comedienne Gilda Radner, as well as what finally had to happen for him to make a true and lasting commitment to another woman.
A thoughtful, revealing, and winsome book about life, love, and the creative process, Kiss Me Like A Stranger is one actor's life in his own words.

About the Author
Gene Wilder has been acting since he was thirteen. After a small role in "Bonnie and Clyde" pulled him away from a career onstage, he was nominated for an Academy Award as Best Supporting Actor for his role as Leo Bloom in "The Producers," which led to "Blazing Saddles "and then to another Academy nomination, this time for writing "Young Frankenstein." Wilder has appeared in twenty-five feature films and a number of stage productions. He lives in Connecticut with his wife, Karen.
Praise For Kiss Me Like A Stranger: My Search for Love and Art…
"Pure Gene Wilder! Uproarishly funny and at times very moving. It made me want to go out and see every Gene Wilder movie again." -- Mel Brooks

"I always knew Gene Wilder was a remarkable person, but I didn't know how remarkable until I read this brave, riveting book." -- Charles Grodin

"Gene Wilder is not just a uniquely talented and lovable performer, he's a gifted memoirist with a great story to tell and a writerly commitment to emotional truth. The real delight lies in the prose -- tight, funny, fast as the breeze -- and insights about accident and fate that lodge in your mind long after the smile has left your lips." -- Letty Cottin Pogrebin, author of Three Daughters

"A book to cherish. Here is the real Gene...irrepressibly funny, wise, warmhearted, and honest. In sharing with us the most intimate details of his extraordinary life on screen and off, Gene shows all if us how to embrace the unexpected, pursue our passion, and seize joy every day. Give this book to someone you want to kiss." -- Pat Collins, film critic
or
Not Currently Available for Direct Purchase