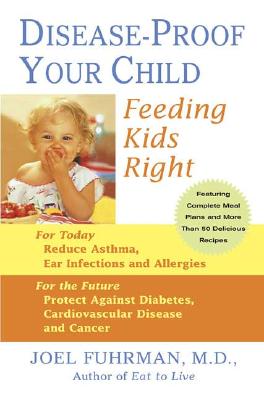 Disease-Proof Your Child: Feeding Kids Right (Hardcover)
Feeding Kids Right
St. Martin's Press, 9780312338053, 288pp.
Publication Date: July 28, 2005
* Individual store prices may vary.
or
Not Currently Available for Direct Purchase
Description
In his private practice, Joel Fuhrman, M.D. works with many families to turn around their health and eating habits and helps children with recurrent medial problems recover their health with nutritional interventions, avoiding the need for further medication.
Backed up by a multitude of scientific studies, Dr. Fuhrman explains how eating particular foods (and avoiding others) can have a significant impact on your child's resistance to dangerous infections and have a dramatic effect on reducing the occurrence of illnesses like ear infections, asthma, and allergies. The right foods introduced early in life can also positively impact your child's IQ and success in school.
Dr. Fuhrman presents the fascinating science that demonstrates that the current epidemic of adult cancers and other diseases is closely linked to what we eat in the first quarter of life. He explains how eating right in childhood is the most powerful weapon against developing cancer, cardiovascular disease, and autoimmune disorders in the future.
His nutrient-rich dietary recommendations give parents the information they need to ensure that their children are eating right to maintain a healthy mind and body. Moreover, he will give parents guidelines on how to get even the pickiest eater to learn to love healthy food. Also featured are his child-tested, kid-friendly recipes that are delicious, easy-to-prepare, and great for the whole family.
Every parent needs this book so that they can make sure that they are doing everything they can for their children's health.
About the Author
Joel Fuhrman M.D. is a board-certified family physician who specializes in preventing and reversing disease through nutritional and natural methods. He is a graduate of the University of Pennsylvania School of Medicine, and also teaches medical students, graduate students, and other physician about nutrition. He is the author of Eat To Live: The Revolutionary Plan for Fast and Sustained Weight Loss and Fasting and Eating for Health: A Medical Doctor's Program for Conquering Disease. Dr. Fuhrman has spoken at hundreds of locations throughout the United States and Canada, such as conferences, college campuses, television shows, and radio talk shows. His appearances include Good Morning America, The Today Show, America's Talking, TV Food Network, CNN and the Discovery Channel among others.Dr. Fuhrman is a member of the Board of Directors of the National Health Association; Advisory Panel, The Physicians Committee for Responsible Medicine; Diplomat, American Academy of Family Physicians; and PwC Health and Performance Advisory Panel, PricewaterhouseCoopers.Dr. Fuhrman lives in Flemington, New Jersey with his wife and four children.
Praise For Disease-Proof Your Child: Feeding Kids Right…
"…a timely response to America's health care crisis. The time to effectively institute healthy nutrition is during childhood. Dr. Fuhrman provides solutions for children, parents, and physicians."
-- Caldwell B. Esselstyn, Jr., M.D., Preventive Cardiology – Cleveland Clinic Foundation         
 
"Dr. Fuhrman's latest book couldn't have come at a better time given the epidemic of obesity, cancer, diabetes and heart disease which is reaching earlier and earlier into the lives of our children. It is destined to take its place among the most important child-rearing books ever written…"
-- Mark A. Huberman, President, National Health Association
 
"The reduction in disease and suffering from this book could exceed any 'medical' advance one can conceive of."
 
--John Kelly, MD, MPH, President, American College of Lifestyle Medicine, professor, Department of Nutrition, School of Public Health, Loma Linda University
Advertisement