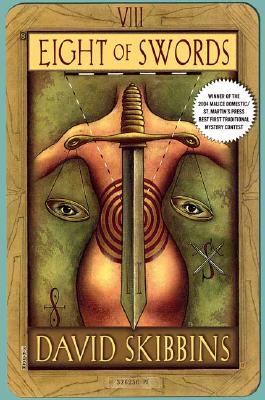 Eight of Swords
Hardcover

* Individual store prices may vary.
Description
A strange thing was happening to Warren Ritter. He certainly didn't believe in the tarot. He was a businessman, setting up a folding table on a San Francisco street where a stream of passersby could bring him as much as a hundred dollars a day when the weather was right. But he was beginning to notice more and more that what he had learned to predict from his tarot cards seemed to be coming to pass with an unsettling regularity. It made him do odd things. Like stop teenage Heather Wellington's tarot at nine cards instead of ten. The first eight had been ominous, the ninth more upbeat, so Warren simply stopped the reading there. It was only after Heather had left that he looked at number ten-it was the Death card.
The Death card does not automatically doom the person whose tarot it turns up in. But it doesn't mean there are good things ahead, either. So Warren, the scoffer, couldn't help feeling horror later that day, to see Heather's face on a pizza parlor TV screen with the word Kidnapped slashed across the top. Guilt, that was what gripped him, as though he could have done something, warned her-but didn't.
"Warren Ritter" is not the name he was christened with. He is a fugitive of sorts. Everyone, including his family and the New York police, believes he died in a mysterious incident thirty years ago, and he has no intention of changing that. Now, on top of the guilt he lives with, is the feeling that somehow he is responsible for young Heather Wellington's capture-that it is his call to find her, and to get at the people who took her.
"Eight of Swords" is an astonishing debut novel, and a very different novel from the old notion that a traditional mystery is along the lines of "a dead vicar in the library." Warren's exciting and often dangerous quest through the streets-some of them quite mean-of San Francisco to find the girl and rescue her is more than just a suspenseful tale, it is also a moving portrait of a man returning to the world he had turned his back on three decades earlier.
Minotaur Books, 9780312339067, 272pp.
Publication Date: March 10, 2005
About the Author
David Skibbins, Ph.D., won the St. Martin's Press 2004 Best Traditional Mystery Contest with his first fiction book, "Eight of Swords." His previous self-help guide, "Working Clean and Sober," was published by Hazelden Press in 2000. He is a certified life coach. David lives on the Pacific Coast at The Sea Ranch, California, with his brilliant wife and his goofy Portuguese water dog. He is hard at work on the next book in the Warren Ritter series.
or
Not Currently Available for Direct Purchase