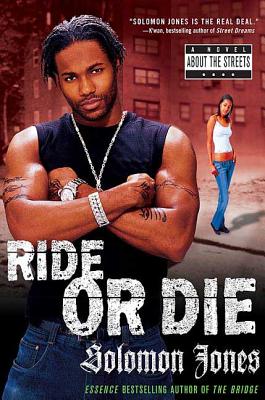 Ride or Die
Paperback

* Individual store prices may vary.
Description
Seventeen-year-old Keisha is the beautiful, sheltered daughter of an activist pastor with a checkered past. Handsome, ambitious Jamal-a street-savvy crack dealer-is the son of North Philly's most notorious drug kingpin. A history of violence and betrayal lies between their fathers, who are now bitter enemies. After one of his church members is gunned down-with a bullet he is sure is meant for him-Pastor Anderson goes after Frank Nichols, determined to drive him from the neighborhood for good. There's just one problem: Keisha and Jamal are in love.
When the families face off on opposite sides of an anti-drug demonstration, a high-ranking police official is killed in the crossfire, and Jamal becomes the prime suspect in the murder. Keisha is left with a choice. Will she stay with her father, in the confines of the sheltered world she's known, or will she venture into the unknown in order to help Jamal clear his name? She chooses Jamal, and in a whirlwind flight across the seamy underside of Philadelphia, Keisha will risk everything for love. Even her life.
Praise For Ride or Die…
"Solomon Jones is the real deal. With page turning plots and life-like characters, he takes you beyond the ink and into the story." —K'wan, bestselling author of Gangsta, Road Dawgz and Street Dreams
"Ride Or Die is a scorching rollercoaster ride through the intestines of Philly. Solomon Jones masterfully constructs a world where no one is what they seem." —Y. Blak Moore, author of The Apostles
Minotaur Books, 9780312339890, 304pp.
Publication Date: November 1, 2005
About the Author
Solomon Jones is an Essence bestselling author. He has written  novels including The Dead Man's Wife and The Gravedigger's Ball, and is an award-winning columnist whose journalistic works have been published in Essence and the Philadelphia Daily News. He lives in Philadelphia with his family and is currently at work on his next novel.