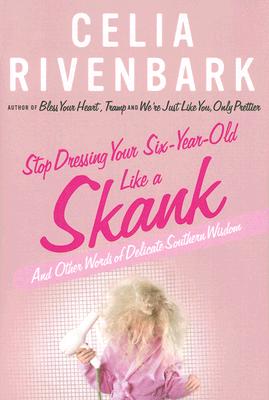 Stop Dressing Your Six-Year-Old Like a Skank
And Other Words of Delicate Southern Wisdom
Hardcover

* Individual store prices may vary.
Other Editions of This Title:
Paperback (9/4/2007)
Description
Celia Rivenbark's essays about life in today's South are like caramel popcorn---sweet, salty, and utterly irresistible

Celia Rivenbark is a master at summing up the South in all its glorious excesses and contradictions. In this collection of screamingly funny essays, you'll discover:
* How to get your kid into a character breakfast at Disneyworld (or run the risk of eating chicken out of a bucket with Sneezy)
* Secrets of Celebrity Moms (don't hate them because they're beautiful when there are so many other reasons to hate them)
* EBay addiction and why "It ain't worth having if it ain't on eBay" (Whoa! Is that Willie Nelson's face in your grits?)
* Why today's children's clothes make six-year-olds look like Vegas showgirls with an abundance of anger issues
* And so much more!
Rivenbark is an intrepid explorer and acid commentator on the land south of the Mason-Dixon line.
Praise For Stop Dressing Your Six-Year-Old Like a Skank: And Other Words of Delicate Southern Wisdom…
"This is a hilarious read, perhaps best enjoyed while eating Krispy Kremes with a few girlfriends."--Publishers Weekly "She kills in the ''Kids'' and ''Southern-Style Silliness'' sections, putting the fear of Mickey into anyone planning a trip to Disney World."--Entertainment Weekly Praise for Celia Rivenbark and We're Just Like You, Only Prettier
"Will give you a case of the giggles."
--New York Daily News
"Warm, witty, and wise, rather like reading dispatches from a friend who uses e-mail but still writes letters, in ink, on good paper."
--St. Petersburg Times
"Even diehard Yankees will appreciate this wickedly funny collection."
--Dallas Morning News
"North Carolina doesn't have a post for a 'humorist laureate,' but it should invent one and install Celia Rivenbark."
--Greensboro News & Record
"I thought I was Southern until I read Celia Rivenbark's book....What a funny, smart, and irreverent writer she is!"
--Lee Smith, author of The Last Girls
"Laugh-out-loud funny."--Cleveland Plain Dealer
"A collection of essays by a woman working in her element…Rivenbark writes with that breezy, irreverent allure that makes so many of these belles legendary."---Blue Ridge Business Journal
"An edgy Erma. An Erma dipped in corn-bread batter, wrapped in collard greens, and drawling that she was speeding because 'my uterus told me to.' "--The Tennessean
"A hoot and a holler."--Boston Herald
"I laughed so hard reading this book, I began snorting in an unbecoming fashion."
--Haven Kimmel, author of A Girl Named Zippy
St. Martin's Press, 9780312339937, 272pp.
Publication Date: September 5, 2006
About the Author
Celia Rivenbark is the bestselling author of "Bless Your Heart, Tramp" and "We're Just Like You, Only Prettier." She lives in North Carolina with her husband and daughter.
or
Not Currently Available for Direct Purchase