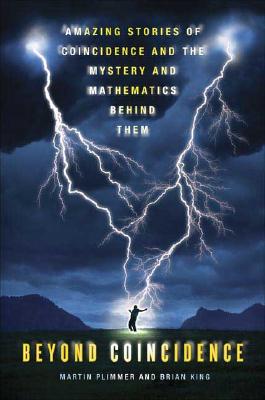 Beyond Coincidence: Amazing Stories of Coincidence and the Mystery and Mathematics Behind Them (Hardcover)
Amazing Stories of Coincidence and the Mystery and Mathematics Behind Them
Thomas Dunne Books, 9780312340360, 288pp.
Publication Date: December 27, 2005
* Individual store prices may vary.
or
Not Currently Available for Direct Purchase
Description
Ever wonder what the odds are of being struck by lightning?
Or winning the lottery?
Or meeting someone from Timbuktu with the same middle name as you?

BEYOND COINCIDENCE recounts and analyzes over 200 amazing stories of synchronicity, the likes of:

Laura Buxton, age ten, releases a balloon from her back yard. It lands 140 miles away in the backyard of another Laura Buxton, also age ten.

Two sisters in Alabama decide, independently, to visit the other. En route, their identical jeeps collide and both sisters are killed.

A British cavalry officer was fighting in the last year of World War One when he was knocked off his horse by a flash of lightning. He was paralyzed from the waist down. The man moved to Vancouver, Canada where, six years later, while fishing in a river, lightning struck him again, paralyzing his right side. Two years later, he was sufficiently recovered to take walks in a local park when, in 1930, lightning sought him out again, this time permanently paralyzing him. He died soon after. Four years later, lightning destroyed his tomb.
About the Author
Martin Plimmer is a journalist, broadcaster and author of the fictionalized memoir "King of the Castle." Once, while in the waiting room of a hospital after banging his head, Martin found a two-year-old magazine open at an article he had written on the subject of headaches.

Brian King is an award-winning pioneer of radio fly-on-the-wall documentaries; the producer of hundreds of programs for BBC Radio, including the long-running series "On the Ropes" and also, coincidentally, presented by Martin Plimmer.
Advertisement