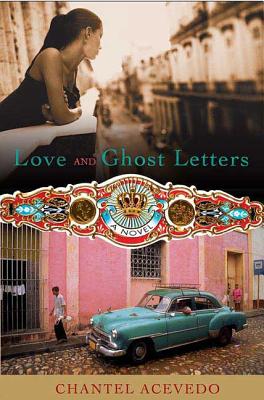 Love and Ghost Letters
A Novel
Paperback

* Individual store prices may vary.
Description
On the day she is born, Josefina Navarro's nursemaid foretells misfortune. But for the young socialite in pre-Castro Cuba, her life in Havana with her Sergeant of police father is idyllic. That is, until she falls in love with Lorenzo, a penniless man who takes her away to the impoverished town of El Cotorro, and her father disowns her. Josefina comes to wish her father dead but regrets it after the Sergeant is assumed killed in a student-led riot. One day, mysterious letters from the Sergeant begin to arrive, telling her the truth about his past. The ghostly letters become her link to love.

Set in Miami and Cuba and covering nearly fifty years of that island's history, Love and Ghost Letters unfolds the lives of the members of the Navarro-Concepción families in the patterns and permutations of memory, and conjures a Cuban setting that evokes mysticism and magic.
Praise For Love and Ghost Letters: A Novel…
"[An] exceptionally fine first novel…. Acevedo shapes each of her characters with clear-eyed reverence, guiding their steps in measured, lyrical prose that is often breath-taking, exquisite…. And this is the author's genius: the line she walks between fact and fairy tale, history and wistful story, the magic that radiates, naturally, from the quirks and coincidences of daily life and what is (often) too easily celebrated--or dismissed--as otherworldly, supernatural." —A. Manette Ansay for The Chicago Tribune

"Acevedo is a fine storyteller…. [Love and Ghost Letters] unfolds with a leisurely pleasure that feels like magic realism." —Christian Science Monitor

"Acevedo, a first-generation Cuban-American, lyrically illustrates the changing social, economic and political landscape in this tumultuous period in Cuba's history. She has filled her novel with enchanting details, down to the red, white and blue paper roses at that first society dance and the recipes Josefina's nanny concocts to make Lorenzo faithful to his wife." —Miami Herald

"[Acevedo's] writing is luscious, painting beautifully tragic pictures. Love and Ghost Letters takes a hard look at how closely wedded love and money are, without turning away from the ugliness of social inequality. The magic of the narrative is in the weaving of the personal with the public with such a poetic sensibility and fluidity of style that the reader is completely submerged into the trials of a Cuban family and the contradictions of Cuban society." —South Florida Sun-Sentinel

"...a quirky, charming story of filial love...a distinctly Latin mystique and a style of writing that juxtaposes the mysterious and the mundane." —Miami Today

"Love and Ghost Letters is an enchanting novel; a heartfelt story, it tells volumes about the intimate life and loves of a family in pre-Castro Cuba. Along the way, it captures, beautifully, the atmosphere and emotions of a time which, both Cuban Americans and many an American reader, will find both reminiscent and fulfilling. A great debut." —Oscar Hijuelos, author of The Mambo Kings Play Songs of Love: A Novel and A Simple Habana Melody
St. Martin's Griffin, 9780312340476, 320pp.
Publication Date: September 19, 2006
About the Author
Chantel Acevedo is a first-generation Cuban-American whose childhood combined American modernity with traditional Cuban values.  She attended the M.F.A. creative writing program at the University of Miami on a James Michener Fellowship, and is the author of Love and Ghost Letters.  She has won two Fulbright Awards for secondary education.