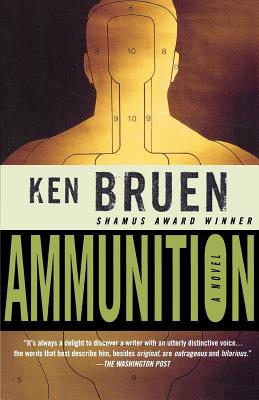 Ammunition (Paperback)
Minotaur Books, 9780312341459, 226pp.
Publication Date: September 5, 2000
Description
Over the many years that Inspector Brant has been bringing his own patented brand of policing to the streets of southeast London, the brilliant but tough cop has made a few enemies. So when a crazed gunman, hired by persons unknown, pumps a magazine full of bullets into Brant in a local pub, leaving him in grasping at life (but ornery as ever), his colleagues on the squad are left wondering how to react.
Brant's old partner Inspector Roberts, the man who may know him best, finds himself wondering why someone didn't shoot the hateful detective years ago. In Ken Bruen's "Ammunition," they're all about to find out that the answer is quite simple: if you come after Brant you'd damn well better kill him the first time--because if you don't, you won't want to stick around to find out what happens next.
About the Author
Ken Bruen has been a finalist for the Edgar and Anthony Awards, and has won a Macavity Award, a Barry Award, and two Shamus Awards for the Jack Taylor series. He is also the author of the Inspector Brant series. Several of Bruen's novels have been adapted for the screen: The first six Jack Taylor novels were adapted into a television series starring Iain Glen; Blitz was adapted into a movie starring Jason Statham; and London Boulevard was adapted into a film starring Colin Farrell and Keira Knightley. Bruen lives in Galway, Ireland.
Praise For Ammunition…
"It's always a delight to discover a writer with an utterly distinctive voice…the words that best describe him, besides original, are outrageous and hilarious."
--Washington Post"Bruen's furious hard-boiled prose, chopped down to its trademark essence, never fails to astonish."--Publishers Weekly (starred review)
"Bruen's style is clipped, caustic, heartbreaking and often hilarious."
--Cleveland Plain Dealer
"Irish writer Ken Bruen does the noir thing well. His men are tough, his prose is lean, and there's not a single drop or morsel of sentimentality to be found therein."--Entertainment Weekly
"A soul-mate of Jim Thompson's, or maybe James M. Cain's."--Irish Times
Advertisement