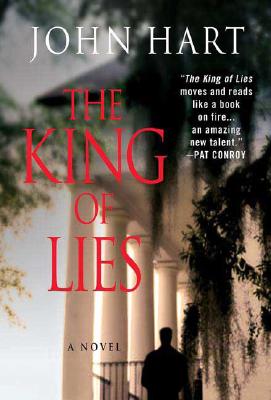 The King of Lies (Hardcover)
Minotaur Books, 9780312341619, 320pp.
Publication Date: May 16, 2006
* Individual store prices may vary.
or
Not Currently Available for Direct Purchase
Description
John Hart creates a literary thriller that is as suspenseful as it is poignant, a riveting murder mystery layered beneath the southern drawl of a humble North Carolina lawyer. When Work Pickens finds his father murdered, the investigation pushes a repressed family history to the surface and he sees his own carefully constructed facade begin to crack.
Work's troubled sister, her combative girlfriend, his gold digging socialite wife, and an unrequited lifelong love join a cast of small town characters that create no shortage of drama in this extraordinary, fast-paced suspense novel.
Hart's mastery of prose and plot belie his newcomer status as he explores the true heart of a man. An illuminating anatomy of a murder and the ripple effect it produces within a family and a community, "The King of Lies" is a stunning debut.

About the Author
John Hart is the "New York Times" bestselling author of "Down River" and "The Last Child." The only author in history to win the best novel Edgar Award for consecutive novels, John has also won the Barry Award and England's Steel Dagger Award for best thriller of the year. He was born and raised in North Carolina. For a time he practiced criminal defense law, but left to focus on his writing.
Praise For The King of Lies…
"The King of Lies moves and reads like a book on fire. The author is a lawyer who knows his way around the courtrooms and jailhouses, the cops and judges, the way that Grisham and Turow do. Smart and swiftly moving, The King of Lies is the work of an amazing new talent."
-- Pat Conroy

"John Hart's debut in the world of fiction is that most engrossing of rarities, a well-plotted mystery novel that is written in a beautifully poetic style. The King of Lies will mark the beginning of a long and stellar career."
-- Mark Childress, author of Crazy in Alabama, Tender, and Gone for Good

"A stunning debut, absolutely relentless. I dare you to read the first chapter of The King of Lies and not be hooked. Daring and original... John Hart delivers with this dark, heart-breaking tale of secrets and revenge."
-- Steve Hamilton, author of Ice Run
"The King of Lies is a rare, remarkable book, a marvel from the first page to the last. At times blunt and startling, at times full of grace and subtle wisdom, this novel is, without a doubt, one of the most compelling pieces of fiction I've ever read."
-- Martin Clark, author of The Many Aspects of Mobile Home Living and Plain Heathen Mischief

"A suspenseful novel about the unraveling of the poisonous legacy of a southern lawyer brings us a strong new voice in crime fiction. John Hart is a writer to watch."
--Thomas Perry, author of Dead Aim

"The best thing about reading King of Lies is watching the character of Work Pickens evolve. Though there's plenty of intrigue here, with dead bodies and villains galore, the real change happens inside the character of Work Pickens as he's forced by external circumstances to take a hard look at his assumptions and values. An ambitious debut from a promising new novelist."
-- Sheri Reynolds, author of Rapture of Canaan and Gracious Plenty
Advertisement