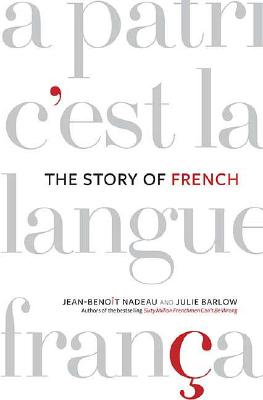 The Story of French (Hardcover)
St. Martin's Press, 9780312341831, 496pp.
Publication Date: November 14, 2006
* Individual store prices may vary.
or
Not Currently Available for Direct Purchase
Description
Why does everything sound better if it's said in French? That fascination is at the heart of The Story of French, the first history of one of the most beautiful languages in the world that was, at one time, the pre-eminent language of literature, science and diplomacy. Nadeau and Barlow chart the history of a language spoken as a native tongue by 130 million people around the globe. The first document written in the French was signed by the sons of Charlemagne in 832. After this, Latin was purged from the courts of France by Francois 1st, giving root to French speakers' 21st century obsession with language protection. The obsession progressed as Cardinal Richelieu established the French Academy, a group entrusted with the responsibility of keeping the language pure and eloquent. As French circled the globe, the international cast of characters included Montaigne, Catherine the Great, Frederic II of Prussia, the guides of the Lewis and Clark expedition, Jules Verne, and others. Let Nadeau and Barlow guide you through the story of a language used to write some of the world's great masterpieces of literature, construct some of the most important documents of diplomacy, bedevil millions with its vagaries of pronunciation and beguile everyone with its beauty.
About the Author
Partners in life and in writing, Canadian journalist-authors JEAN-BENOIT NADEAU and JULIE BARLOW are award-winning contributors to"""L'actualite." Their writing has appeared in the"""Toronto Star, " the"""Ottawa Citizen, Saturday Night, The Christian Science Monitor" and the"""International Herald Tribune, " among others. In 2003, Nadeau and Barlow published their critical and popular success, """Sixty Million Frenchmen Can't Be Wrong." They live in Montreal."
Praise For The Story of French…
"A well-told, highly accessible history of the French language that leads to a spirited discussion of the prospects for French in an increasingly English-dominated world."--William Grimes, The New York Times  "Fascinating . . . a fresh approach to both the language and the history. It combines a detailed and learned grasp of the evolution of the language in various parts of the Francophone world with a personal touch."—Mary Ann Caws, Distinguished Professor of French, English, and Comparative Literature, City University of New York

"The Story of French hums with the spirit of a novel, the heart of a travel book and the brains of an essay. Jean-Benoît Nadeau and Julie Barlow have seized an ambitious theme and made it fascinating and easy to read. With a deft and energetic touch, the authors offer personality and wisdom in this wonderful tribute to the French language and the people who speak it."—Lawrence Hill, Author of Any Known Blood
Advertisement