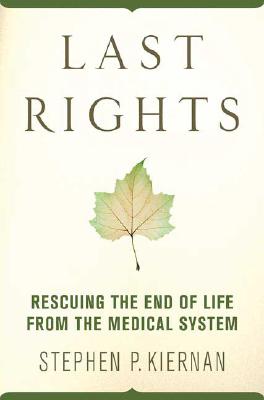 Last Rights: Rescuing the End of Life from the Medical System (Hardcover)
Rescuing the End of Life from the Medical System
St. Martin's Press, 9780312342241, 320pp.
Publication Date: November 14, 2006
* Individual store prices may vary.
or
Not Currently Available for Direct Purchase
Description
"This country is fairly crowded with doctors, families, and patients—all possessed of good intentions—failing to achieve the simple goal of allowing people to die with dignity and grace."
In the 1970s, most Americans died swiftly and brutally: of heart attacks, strokes, cancer, or in accidents. But in the past three decades, medical advances have extended our lives and changed the way we die. In Last Rights, Stephen Kiernan reveals the disconnect between how patients want to live the end of life—pain free, functioning mentally and physically, surrounded by family and friends—and how the medical system continues to treat the dying—with extreme interventions, at immense cost, and with little regard to pain, human comforts, or even the stated wishes of patients and families. Backed with surveys, interviews, and intimate portraits of people from all walks of life, from the dying and their families to the doctors and nurses who care for them, this book will be for our time what Elizabeth Kubler-Ross's books were for a previous generation.
About the Author
STEPHEN KIERNAN is a writer and journalist for the "Burlington Free Press." His numerous awards include the Gerald Loeb Award for Financial Journalism, the Associated Press Managing Editors' Freedom of Information Award, and the George Polk Award. He lives in Charlotte, Vermont.
Praise For Last Rights: Rescuing the End of Life from the Medical System…
"Damn, I wish I'd had this book before my own father died. Part a guide to thinking through the policy questions surrounding the end of life, and part an informal handbook for helping with the deaths of your own loved ones, it also offers a final and supreme gift: the chance to begin thinking about what your own life means in the context of its inevitable end."---Bill McKibben author of The End of Nature

"With an uncommon mix of stories and scholarship, Stephen Kiernan has described the challenges that remain at life's end, despite efforts to reform care over the past few decades. With candor, clarity, and an advocate's sense of urgency, he seeks to understand why our acute-care system has been so resistant to change and how we can infuse
greater humanity to life's final chapter."---Joseph J. Fins, M.D., F.A.C.P., Chief of the Division of Medical Ethics, Weill Medical College of Cornell University, and author of A Palliative Ethic of Care: Clinical Wisdom at Life's End

"Last Rites paints a frightening picture of the disorganized, deficient, and disastrous ways many people are cared for and die. Thankfully, Kiernan goes beyond exposé to uncover hopeful progress and practical ways to protect and nurture the people we love. Kiernan's Last Rites is to end-of-life care today what Nader's Unsafe at Any Speed was to car safety in the 1960s. This is one book that America must read!"---Ira Byock, M.D., Professor of Palliative Medicine, Dartmouth Medical School, and author of Dying Well and The Four Things That Matter Most
Advertisement