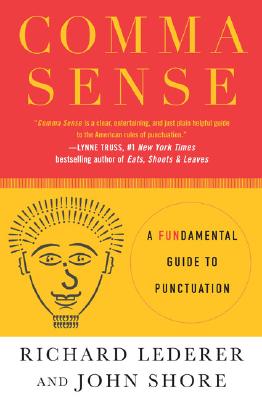 Comma Sense (Hardcover)
A Fun-damental Guide to Punctuation
St. Martin's Press, 9780312342548, 160pp.
Publication Date: July 28, 2005
Other Editions of This Title:
Paperback (7/10/2007)
* Individual store prices may vary.
Description
Are you confounded by commas, addled by apostrophes, or queasy about quotation marks? Do you believe a bracket is just a support for a wall shelf, a dash is something you make for the bathroom, and a colon and semicolon are large and small intestines? If so, language humorists Richard Lederer and John Shore (with the sprightly aid of illustrator Jim McLean), have written the perfect book to help make your written words perfectly precise and punctuationally profound.
Don't expect "Comma Sense" to be a dry, academic tome. On the contrary, the authors show how each mark of punctuation--no matter how seemingly arcane--can be effortlessly associated with a great American icon: the underrated yet powerful period with Seabiscuit; the jazzy semicolon with Duke Ellington; even the rebel apostrophe with famed outlaw Jesse James. But this book is way more than a flight of whimsy. When you've finished "Comma Sense, "you'll not only have mastered everything you need to know about punctuation through Lederer and Shore's simple, clear, and right-on-the-mark rules, you'll have had fun doing so. When you're done laughing and learning, you'll be a veritable punctuation whiz, ready to make your marks accurately, sensitively, and effectively.

About the Author
Richard Lederer, Ph.D., is the author of more than thirty books on the English language, including "Anguished English" and "A Man of My Words." His syndicated column, "Looking at Language," appears in newspapers and magazines nationwide, and he co-hosts a weekly show on San Diego Public Radio. He lives in San Diego, California, with his wife.

John Shore is a magazine writer and editor in San Diego. He is the author of "Penguins, Pain, & The Whole Shebang: Why I Do The Things I Do, " by God (as told to John Shore).
Praise For Comma Sense: A Fun-damental Guide to Punctuation…
"Comma Sense is a clear, entertaining, and just plain helpful guide to the American rules of punctuation."
---Lynne Truss, #1 New York Times bestselling author of Eats, Shoots & Leaves

"Of my 465 books on punctuation---I've read them all---Comma Sense is the wisest and funniest. It's the only one you really need."
---Bryan A. Garner, author of Garner's Modern American Usage

"A thorough field guide to the pesky little critters of the punctuation forest.
Lederer and Shore hit the marks!"
---Bill Walsh, author of The Elephants of Style

"Who else would call the exclamation point 'this titan of tingle, this prince of palpitation'? Who else would call the apostrophe the Jesse James of punctuation? Who else would compare the dash to Fred Astaire, the semicolon to Duke Ellington, and parentheses (yes, my darlings) to Louella Parsons? It can only be Richard Lederer, Viceroy of Verbivores, and his trusty sidekick, John Shore."
---Patricia T. O'Conner, author of Woe Is I

"Punctuation needn't be perplexing or painful, as Richard Lederer and John Shore make abundantly clear. Comma Sense is full of easy-to-understand guidance for the grammatically challenged---and loads of laughs besides!"
--- Martha Barnette, author of Dog Days and Dandelions

"If America had 'Living National Treasures,' the way Japan and Korea do, Richard Lederer would be one."
---Barbara Wallraff, author of Your Own Words

Now a pair of U.S. writers has joined the grammar book sweepstakes, guiding us through the correct usage of 13 punctuation marks - period, question mark, exclamation point, comma, semicolon, colon, dash, apostrophe, quotation marks, parentheses, brackets, hyphen and ellipsis - in Comma Sense (St. Martin's Press, $22.95, 140 pp). Authors Richard Lederer and John Shore don't take Truss' no-prisoners approach, but rather try to convince us that getting the comma in the right place can be fun.

"The power's in the punctuation, baby," write Lederer and Shore. "And we're gonna show you how to be a power pack of punctuational potency."

Lederer is the author of more than 30 books on the English language. Shore is a magazine writer and editor. Together they've linked punctuation marks to various American personalities: The dash is Fred Astaire, the exclamation point is Lucy Ricardo, the question mark is Albert Einstein and (my favorite) parentheses are gossip columnist Louella Parsons.

Okay, it's goofy, but if this book stops just one person from mixing up the proper use of "its" and "it's" ever again, I hope it's nominated for the Pulitzer.

For, alas, punctuation not only pays, it matters. As Lederer and Shore point out, "Like it or not, writing well - not artistically, not ornately, not floridly, but just competently - really is the difference between being largely able to define your own life and having much of your life defined for you. Writing is, in a word, power."

Writing well is important for business, but it also can be crucial in love, the writers warn. Do you want to say, "I would like to tell you that I love you. I can't stop thinking that you are one of the prettiest women on Earth," or "I would like to tell you that I love you. I can't. Stop thinking that you are one of the prettiest women on Earth." As Lederer and Shore say, "Punctuation can mean the difference between a second date and a restraining order."
---Margo Hammond, St. Petersburg Times


"Lederer and Shore's Comma Sense-bear in mind that it's their first collaboration-is speckled with humor so lame that it keeps falling on its assonance." Whoever wrote that callous, brutal comment about Comma Sense must be lacking in their own sense of humor. Oh, wait, that comment was written by Lederer and Shore. My mistake. Yes, this book is truly unique! If language can be considered a cartoon, then Comma Sense is Bugs Bunny, Daffy Duck, the Road Runner, Batman, the Far Side, Charlie Brown, and Donald Duck all rolled into one. Each chapter is devoted to one of 13 punctuation marks. These punctuation marks have fun, make fun, and are fun! My favorite is the dash, who is compared to Fred Astaire: "The dash emboldens eloquence; Fred Astaire embodies elegance. Plus, they're both skinny." Comma Sense spins tales that sound like facts until you realize that they co-exist with punctuation marks in the wild and crazy world of Ledererean lingofantasy. "Little Shirley Temple chirped, '…And most of all, I'd like to thank that most wonderful of punctuation marks, the hyphen, which I personify!'" Seriously, this book has been cited as the clearest source on punctuation ever written. It is necessary for saving the human race from its dangerous slide into a punctuationless exclamation point of no return! It tells you everything you wanted to know about punctuation but were afraid to ask. If you want to see punc rock, open the pages of this comprehensive, hilarious book. Here is a song you will find in it that showcases the seven coordinating conjunctions. It is sung to the tune of the Julie Andrews smash hit, "Do, Re, Mi." Go ahead and sing it out loud! If your neighbors complain, give them this review and tell them to buy the book!

And, a word, a real small word;
But, it's spelled with just one t;
Or, a stick we use to row;
Nor, half of a cold countreeeee;
Yet, you bet it rhymes with wet;
For, one number more than three;
So a button on your fly-
And that brings us back to do, re, mi!
---Dave Morice, Word Ways
or
Not Currently Available for Direct Purchase