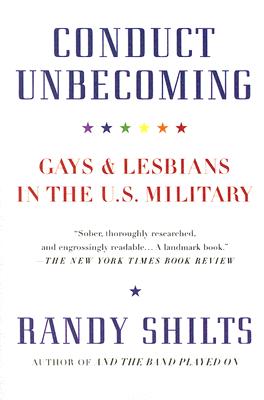 Conduct Unbecoming (Paperback)
Gays and Lesbians in the U.S. Military
St. Martin's Griffin, 9780312342647, 832pp.
Publication Date: June 23, 2005
* Individual store prices may vary.
Description
The definitive book on lesbians and gay men in the US military.
Randy Shilts, author of the classic documentary history of the AIDS epidemic "And The Band Played On," was acclaimed for his ability to take epic histories and molding them into gripping, intimate narratives. "Conduct Unbecoming," his groundbreaking exploration of lesbians and gays in the military, came out of hundreds of interviews conducted with servicepeople at all levels of the Army, Navy, Air Force and Marine Corps and intense research uncovering thousands of documents resulting in a unique history of gays in the military as well as the persecution of gays in the military. "Conduct Unbecoming" will leave readers moved and imbued with a better understanding of the pressing situation in our nation's military.
"A sober, thoroughly researched and engrossingly readable history on the subject. Shilts's] chronicle is excellent military history, closely woven with an enthralling analysis of the changing definitions of sexuality and personal relationships in American society.... A] landmark book....Remarkable."
--"New York Times Book Review"
""
"A masterpiece of investigative reporting Shilts has shown us the honor homosexuals have brought, and continue to bring, to the uniforms they wear and the country they serve." - "Boston Globe"
"Gays, we are told, would damage morale in the military. Shilts documents the fact that morale has already been eaten away by hypocrisy, contradictions, and favoritism This book will be to gay and lesbian liberation what Betty Friedan's was to early feminism or Rachel Carson's to ecological consciousness. No fair-minded person can read Conduct Unbecoming and consider the present system defensible. - "USA Today"
""
"Gripping reading....the history of homosexual people and the movement for gay/lesbian equality in the United States can nowhere be more clearly told." - "Los Angeles Times"

About the Author
RANDY SHILTS, one of the first journalists to recognize the national importance of the AIDS crisis, was a national correspondent for the "San Francisco Chronicle "for thirteen years. He is the author of "The Mayor of Castro Street "and "And the Band Played On." He died in 1994.
Praise For Conduct Unbecoming: Gays and Lesbians in the U.S. Military…
"A sober, thoroughly researched and engrossingly readable history on the subject. [Shilts's] chronicle is excellent military history, closely woven with an enthralling analysis of the changing definitions of sexuality and personal relationships in American society....[A] landmark book....Remarkable."
--New York Times Book Review

"A masterpiece of investigative reporting…Shilts has shown us the honor homosexuals have brought, and continue to bring, to the uniforms they wear and the country they serve." - Boston Globe

"Gays, we are told, would damage morale in the military. Shilts documents the fact that morale has already been eaten away by hypocrisy, contradictions, and favoritism…This book will be to gay and lesbian liberation what Betty Friedan's was to early feminism or Rachel Carson's to ecological consciousness. No fair-minded person can read Conduct Unbecoming and consider the present system defensible. - USA Today

"Gripping reading....the history of homosexual people and the movement for gay/lesbian equality in the United States can nowhere be more clearly told." - Los Angeles Times
or
Not Currently Available for Direct Purchase