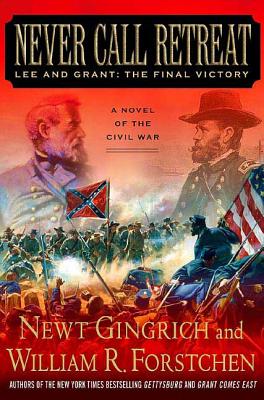 Never Call Retreat (Paperback)
Lee and Grant: The Final Victory: A Novel of the Civil War (The Gettysburg Trilogy #3)
St. Martin's Griffin, 9780312342999, 512pp.
Publication Date: May 16, 2006
Other Editions of This Title:
Digital Audiobook (5/30/2005)
Mass Market (4/3/2007)
Hardcover (5/26/2005)
Compact Disc (5/26/2005)
* Individual store prices may vary.
Description
New York Times bestselling authors Newt Gingrich and William R. Forstchen conclude their inventive trilogy with this remarkable answer to the great "what-if" of the American Civil War: Could the South have won?
After his great victories at Gettysburg and Union Mills, General Robert E. Lee's attempt to bring the war to a final conclusion by attacking Washington, D.C., fails. However, in securing Washington, the remnants of the valiant Union Army of the Potomac are trapped and destroyed. For Lincoln, there is only one hope left, that General Ulysses S. Grant can save the Union cause.
It is now August 22, 1863. Pursuing the Union troops up to the banks of the Susquehanna, Lee is caught off balance when news arrives that Grant, in command of over seventy thousand men, has crossed that same river. As General Grant brings his Army of the Susquehanna into Maryland, Robert E. Lee's Army of Northern Virginia maneuvers for position. The two armies finally collide in Central Maryland and a bloody weeklong battle ensues along the banks of Monocacy Creek. This must be "the final" battle for both sides.
In Never Call Retreat, Newt Gingrich and William R. Forstchen bring all of their now critically acclaimed talents to bear in what is destined to become an immediate classic.
"With each book in their ongoing alternate history cycle, Gingrich and Forstchen have gone from strength to strength as storytellers.... It has passages of genuine depth and poetry which elevate it above many other specimens of its peculiar subgenre." ---William Trotter, The Charlotte Observer
About the Author
Newt Gingrich, former Speaker of the House, is the author of several bestselling books, including Valley Forge, To Try Men's Souls, Pearl Harbor and Gettysburg (all with William R. Forstchen). He is a member of the Defense Policy Board and co-chair of the UN Task Force, is the longest-serving teacher of the Joint War Fighting course for Major Generals, and served in Congress for twenty years. He is also the founder of the Center for Health Transformation.

William R. Forstchen is the author of the New York Times bestseller One Second After and We Look Like Men of War, among numerous other books in diverse subjects ranging from history to science fiction. He has co-authored several books with Newt Gingrich, including Gettysburg: A Novel of the Civil War, Pearl Harbor, Days of Infamy, To Try Men's Souls and Valley Forge. Forstchen holds a Ph.D. in History from Purdue University, with specializations in military history and the history of technology. He is currently a Faculty Fellow and Professor of History at Montreat College, near Asheville North Carolina. He is a pilot and flies an original WWII recon "warbird." He resides near Asheville with his daughter Meghan.

Albert S. Hanser contributed to To Make Men Free.
Praise For Never Call Retreat: Lee and Grant: The Final Victory: A Novel of the Civil War (The Gettysburg Trilogy #3)…
"With each book in their ongoing alternate history cycle, Gingrich and Forstchen have gone from strength to strength as storytellers." —William Trotter, The Charlotte Observer
"The authors' research is impeccable...the reader is left believing it could really have happened this way." —Booklist
"Character depictions are vivid, detailed, and insightful. One of the best novels of the Civil War to appear in recent years." —Publishers Weekly (starred) on Grant Comes East