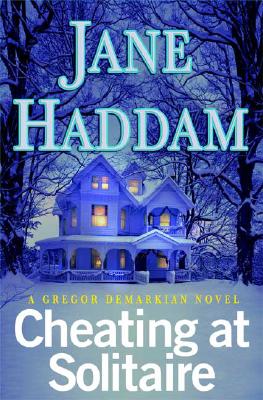 Cheating at Solitaire: A Gregor Demarkian Novel (Hardcover)
A Gregor Demarkian Novel
Minotaur Books, 9780312343088, 400pp.
Publication Date: April 15, 2008
* Individual store prices may vary.
or
Not Currently Available for Direct Purchase
Description
Margaret's Harbor, a small, exclusive island off the coast of Massachussets, has been disrupted for weeks by the antics of a group of young celebrities. Kendra Rhode, of the extremely wealthy Rhode family, is the ring leader and part-year resident on the island. Two of her cohorts, Arrow Normand, an aging teen pop idol, and Marcey Mandret, another of the same vintage, have been acting out publicly - drunken, disorderly public behavior eaten up by the press. During one of the most devastating blizzards in decades, Normand staggers up to a local house, covered in blood and incoherently drunk. Her latest boy toy is found shot dead in the front seat of a crashed truck. The only suspect in the crime is Normand herself and she was apparently far too out of it to remember what actually happened that night. Former F.B.I. agent Gregor Demarkian, fleeing from the preparations for his own wedding, is hired to review the case against Normand. What he finds is a case with little evidence, twisted by an out-of-control media and the cult of celebrity surrounding the three young women, and a mare's nest of motives, in what may be the most confusing, twisted case of his entire career.
About the Author
Jane Haddam is the author of numerous novels, most recently Glass Houses. Her work has been a finalist for both the Anthony and Edgar award. She lives in Litchfield County.
Praise For Cheating at Solitaire: A Gregor Demarkian Novel…
"Sharp, intelligent, and inventive – the kind of mysteries a Dorothy L. Sayers or a Josephine Tey would have come up with…Like a good cabinet maker, Haddam knows exactly how to cut and polish her material into art." – Chicago Tribune on The Headmaster's Wife
"Glass Houses is one of those novels that has everything going for it: a crackling plot, an astonishing cast of characters and the best literary exploration of Philadelphia since the works of John O'Hara…Jane Haddam has created an elegant, stylish work with great appeal." – Cleveland Plain Dealer
"Jane Haddam has been writing for many years but manages to produce each time a layered, richly peopled and dryly witty book with a plot of mind-bending complexity." – Houston Chronicle on Glass Houses
"Haddam's latest Gregor Demarkian mystery, Glass Houses, ranks among her most satisfying, not only because of its intricate plot but also because of its setting and Demarkian's endearingly infuriating supporting cast….Haddam's Demarkian novels are becoming weightier, perhaps more somber, but also more intriguing – tightly crafted and polished puzzlers well worth the intellectual exercise they demand." – The Strand Magazine
"Rife with political insights, subtle humor at her characters' expense, and a keen eye for telling a story from multiple characters' diverse perspectives,
Hardscrabble Road
is as deep as it is wide…A thriller for the thoughtful." –
Rocky Mountain News
Advertisement