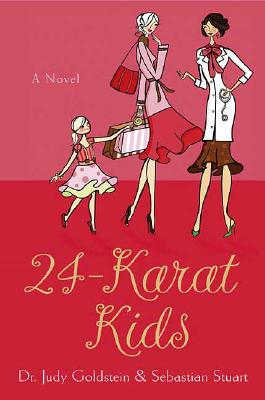 24-Karat Kids (Hardcover)
St. Martin's Press, 9780312343279, 304pp.
Publication Date: June 13, 2006
* Individual store prices may vary.
or
Not Currently Available for Direct Purchase
Description
Meet Dr. Shelley Green - newly minted pediatrician. After graduating medical school at the top of her class, Shelley is hired by Madison Pediatrics, the Upper East Side's most exclusive practice. Suddenly this self-described 'schlumpy girl from Jackson Heights' is thrown into the world of the rich, famous, and very neurotic. Her life is about to change in a big way.
Hyper-parenting has reached epidemic proportions -- and Madison Pediatrics is its over-privileged epicenter. Shelley, a superb doctor with a kid-friendly touch and a genius for diagnosis, quickly becomes the Upper East Side's latest must-have accessory, the darling of the fabulously-wealthy-with-kids crowd. Now she's slimming down, dressing up in Fendi and Prada, and weekending in the Hamptons. No wonder Arthur - her adorable schoolteacher fiance - is baffled.
Enter Josh Potter - blueblood hunk who never seems to have his checkbook around. What he does have is charm, connections, and enough sex appeal to set Shelley's head spinning. Before long, Shelley's plate is way too full: men and medicine, elite nursery schools and rooftop swimming pools. Can she handle it all without losing her soul? Find out in this delicious dose of fiction that brims with acerbic wit, dead-on satire, and finally, poignancy and heart.

About the Author
Dr. Judy Goldstein is one of the leading pediatricians in Manhattan, and has appeared in "New York"""magazine's "The Best Doctors in New York" in 1999, 2000, 2003, and 2005. She was selected as one of the "Best Doctors in America" in 2005 and 2006. She has a thriving Upper East Side practice.

Sebastian Stuart's first novel was "The Mentor." He lives in Cambridge, Massachusetts.
Praise For 24-Karat Kids…
"Feeling poorly? Treat yourself to a full dose of 24-Karat Kids. A nostrum, a kick, a pick-me-up--so pick it up and take it home. Call me in the morning if you can't stop laughing."

--GREGORY MAGUIRE, author of the New York Times bestsellers Wicked and Son of A Witch

"The most fun I've ever had in a doctor's office"--Nancy Lieberman, author of Admissions

"Shelley Green is one of the funniest, warmest heroines I've ever met. I was rooting for her all the way!"--Vicki Lewis Thompson, author of the New York Times bestselling Nerd series

"Dr. Judy Goldstein and Sebastian Stuart are writing about a milieu I know well, and their take on it is fresh and very entertaining."
--Woody Allen

"Dr. Judy Goldstein and Sebastian Stuart have written a very funny and occasionally biting fictional account of a young doctor's plunge into big time Manhattan pediatrics and upper East side glitz. It has the ring of truth and I found it thoroughly entertaining." --Jonathan Newhouse, Conde Nast International
Advertisement