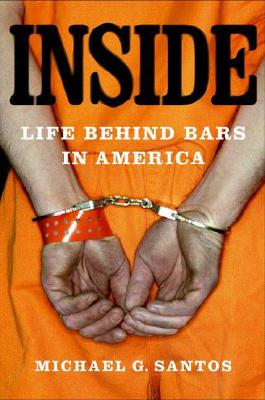 Inside: Life Behind Bars in America (Hardcover)
Life Behind Bars in America
St. Martin's Press, 9780312343491, 336pp.
Publication Date: August 8, 2006
* Individual store prices may vary.
or
Not Currently Available for Direct Purchase
Description
American jails and prisons confine nearly 13.5 million people each year, and it is estimated that 6 to 7 percent of the U.S. population will be confined in their lifetimes. Despite these disturbing numbers, little is known about life inside beyond the mythology of popular culture.

Michael G. Santos, a federal prisoner nearing the end of his second decade of continuous confinement, has dedicated the last eighteen years to shedding light on the lives of the men warehoused in the American prison system. Inside: Life Behind Bars in America, his first book for the general public, takes us behind those bars and into the chaos of the cellblock.

Capturing the voices of his fellow prisoners with perfect pitch, Santos makes the tragic--- and at times inspiring---stories of men from the toughest gang leaders to the richest Wall Street criminals come alive. From drug schemes, murders for hire, and even a prostitution ring that trades on the flesh of female prison guards, this book contains the never-before-seen details of prison life that at last illuminate the varied ways in which men experience life behind bars in America.
About the Author
Michael G. Santos was convicted in 1987, at the age of twenty-three, of crimes relating to his participation in a drug-trafficking scheme and sentenced to forty-five years in prison. He has earned a bachelor of arts, a master of arts, and was pursuing a Ph.D. until the Bureau of Prisons rules blocked his progress. He contributes to an extensive website as a resource for the families of people behind bars. He currently resides in the Federal Prison Camp in Lompoc, California, and based on his impeccable disciplinary record, looks forward to his release in 2013.
Praise For Inside: Life Behind Bars in America…
Praise for Inside: Life Behind Bars in America

"This surprisingly dispassionate account of life in federal prison reads more like a work of advocacy journalism than personal memoir, freshining both the genre and the arguments about the failings of modern U.S. penitentiaries. The tone and his focus on other inmates' experiences rather than his own lend the book weight and authenticity, opening a window onto the corrupt, violent and ultimately counter-productive society of American prisons."
--Edward Humes, Los Angeles Times

"Inside is actually two books. The red meat of the book is a collection of more than 100 prisoners' accounts, including every gruesome detail… But between shocking tales of inmate misbehavior are Santos' convincing theories about what it all means."
--Sean Bosker, New York Post

"Santos deserves a hearing… He provides more than just a seamy look at prison life. A chilling, timely portrayal."
--Tara McKelvey, New York Times Book Review "Michael Santos has written a book of rare quality and pressing importance. To read this book is to change the way you think about imprisonment."
--Todd R. Clear, Distinguished Professor and Executive Officer, Program of Doctoral Studies in Criminal Justice, John Jay College, The City University of New York

"Inside is not recommended for the faint at heart. Santos eloquently and engagingly captures the subculture of the prisoner. Inside is a must read."
--Sam Torres, Ph.D., Professor of Criminal Justice, California State University, Long Beach, and Senior U.S. Probation Officer (Ret.)

"Michael Santos, a federal prisoner now in his eighteenth year of incarceration, has made an outstanding contribution to our understanding of life inside America's prisons."
--George F. Cole, Professor Emeritus, University of Connecticut

"Michael Santos has done two remarkable things: First, he has provided to the general reading public the perspective and experience of a wide range of his fellow inmates, who rarely if ever have a public voice. The language is often crude, vulgar, and hostile; but so is the culture of which it speaks. Second, he has demonstrated the triumph of the human spirit that refuses to let past mistakes or present circumstances have the final say in defining who he is."
--J. Colin Harris, Professor of Religious Studies, Mercer University

"Disturbing as well as uplifting, Inside sheds light on the darkest corners of the U.S. society. It should be read by all those interested in justice, punishment, and forgiveness."
--Mary Bosworth, Ph.D., Centre for Criminology, University of Oxford
Advertisement