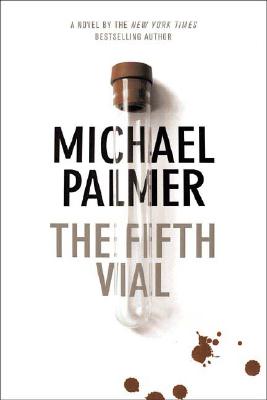 The Fifth Vial (Hardcover)
St. Martin's Press, 9780312343514, 384pp.
Publication Date: February 20, 2007
* Individual store prices may vary.
or
Not Currently Available for Direct Purchase
Description
From the blockbuster, eleven-time "New York Times" bestselling author comes a novel of medical suspense that begins with these chilling questions: Who ends up with the blood samples you routinely give for tests? What else are they being used for? Why don't you know?
Take a Deep Breath. . . .
In Boston, a disgraced medical student is sent to deliver a research paper that could save her career. . . . Four thousand miles away, in a jungle hospital in Cameroon, a brilliant, reclusive scientist, dying from an incurable disease that threatens to make each tortured breath his last, is on the verge of perfecting a serum that could save millions of lives, and bring others inestimable wealth. . . . In Chicago, a disillusioned private detective, on the way to his third career, is hired to determine the identify of a John Doe, killed on a Florida highway, with mysterious marks on his body.
Three seemingly disconnected lives, surging unrelentingly toward one another. Three lives becoming irrevocably intertwined. Three lives in mounting peril, moving ever closer to the ultimate confrontation against a deadly secret society with godlike aspirations and roots in antiquity.
Medical student. Scientist. Private eye. Three people who will learn the deeper meanings of brilliance and madness, truth and deception, trust and betrayal.
Three lives linked forever by a single vial of blood--the fifth vial.

About the Author
Michael Palmer, M.D., is the author of eleven novels of medical suspense, all international bestsellers. In addition to his writing, Palmer is an associate director of the Massachusetts Medical Society Physician Health Services, devoted to helping physicians troubled by mental illness, physical illness, behavioral issues, and chemical dependency, including alcoholism. In what spare time he has, Palmer is a weight lifter and avid tournament bridge player. He lives in eastern Massachusetts, where he is best known for his two eccentric cats and three terrific sons.
Praise For The Fifth Vial…
"An ingenious medical thriller, suspenseful and cleverly plotted."--Kathy Reichs, author of Break No Bones "Palmer's latest has thrills and chills aplenty, while conveying a sobering--make that terrifying--message. Not only is this one heck of a medical thriller, it's a scary wake-up call to what could happen if a few individuals decided to play God, a premise that scared the daylights out of me. Could this happen? Palmer makes you think so."--Sandra Brown, author of Ricochet

"The Fifth Vial is a nail-biting thriller you don't want to miss."--Catherine Coulter, author of Point Blank

"Michael Palmer delivers a complex plot, fascinating characters, and plenty of action. The Fifth Vial is a roller-coaster ride that winds its way through the United States, Africa, India, and Brazil on the way to a terrific surprise ending."--Phillip Margolin, author of Proof Positive

"From knowledge comes power, and from power, temptation. Michael Palmer's The Fifth Vial is a tale set at the very edge of our medical knowledge, and of a thrilling heroine who confronts a theft that haunts me still. I loved it!"--Tess Gerritsen, author of The Mephisto Club

"Brilliant storyteller Michael Palmer is at the top of his game, and gives us a compelling and thought-provoking tale that will have you looking over your shoulder. It's both realistic and terrifying, and it will keep you up all night!"--Iris Johansen, author of On the Run

"There's a compelling truth at the center of this high-octane thriller. The twists keep you reading and the questions Palmer poses keep you thinking all night long."--Tami Hoag, author of Prior Bad Acts

"Michael Palmer, perhaps the best of our medical-thriller writers, has penned an action-packed tale that will have you checking all your body parts for days afterward."--Terry Brooks, author of Armageddon's Children and The Sword of Shannara
Advertisement