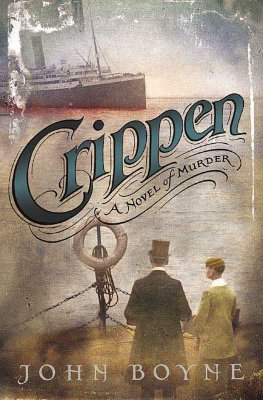 Crippen: A Novel of Murder (Hardcover)
A Novel of Murder
Thomas Dunne Books, 9780312343583, 352pp.
Publication Date: March 7, 2006
* Individual store prices may vary.
or
Not Currently Available for Direct Purchase
Description
July 1910: A gruesome discovery has been made at 39 Hilldrop Crescent, Camden.
Chief Inspector Walter Dew of Scotland Yard did not expect the house to be empty. Nor did he expect to find a body in the cellar. Buried under the flagstones are the remains of Cora Crippen, former music-hall singer and wife of Dr. Hawley Crippen. No one would have thought the quiet, unassuming Dr. Crippen capable of murder, yet the doctor and his mistress have disappeared from London, and now a full-scale hunt for them has begun.
Across the Channel in Antwerp, the S.S. "Montrose "has just set off on its two-week voyage to North America. Slipping in among the first-class passengers is a Mr. John Robinson, accompanied by his teenage son, Edmund. The pair may be hoping for a quiet, private voyage, but in the close confines of a luxury ocean liner, anonymity is rare. And with others aboard looking for romance, or violence, or escape from their past in Europe, it will take more than just luck for the Robinsons to survive the voyage unnoticed.
An accomplished, intricately plotted novel, "Crippen "brilliantly reimagines the amazing escape attempt of one of history's most notorious killers and marks the outstanding American debut of one of Ireland's best young novelists.
About the Author
John Boyne was born in Dublin, Ireland. He studied English literature at Trinity College, Dublin, and was a student in creative writing at the University of East Anglia, where he was awarded the Curtis Brown Prize. He began publishing short stories in his early twenties and was shortlisted for a Hennessy Literary Award. He is also the author of the children's novel "The Boy in the Striped Pyjamas," which has been shortlisted for the Ottakar's Children's Book Prize. He has taught creative writing at the Irish Writer's Centre and at the University of East Anglia, where he was awarded the Writing Fellowship for 2005; in the same year, Ireland's "Sunday Business Post "named him one of the forty people under forty in Ireland "likely to be the movers and shakers who will define the country's culture, politics, style and economics in 2005 and beyond." "Crippen "was nominated for the "Sunday Independent "Hughes & Hughes Irish Novel of the Year Award. Boyne's work has been translated into fourteen languages. He lives with his partner in Dublin.
Praise For Crippen: A Novel of Murder…
Praise for John Boyne and Crippen

"Had Charles Dickens been around to turn his talents to fictionalizing the classic Crippen murder case, the result might well have been close to this superb, multifaceted novel. ... Boyne brings all the characters in this drama to life, skillfully shifting perspectives and using flashbacks and flash-forwards. … Boyne is to be commended for his ability to alternate between Wodehousian humor and Edwardian noir."
--Publishers Weekly (starred review)

"A wonderfully evocative and detailed tale... Hugely enjoyable."
--Macavity's (UK)

"Boyne is a skillful storyteller... genuinely thrilling."
-- Sunday Tribune (UK)

"Boyne has the ability to create memorable characters, and to unfold their various stories in a tightly controlled narrative that shifts backwards and forwards, doling out enough information to keep readers on the edge of their metaphorical seats."
--The Irish Times

"Crippen has confirmed him as one of the best and original of the new generation of Irish writers."
--Irish Examiner





From Library Journal (starred review):
*Boyne, John. Crippen: A Novel of Murder. Thomas Dunne Bks: St. Martin's. Mar. 2006. c.352p. ISBN 0-312-34358-2 [ISBN 978-0-312-34358-3]. $24.95. F "The truth always outs," states Inspector Dew of Scotland Yard. Or does it? Boyne (The Thief of Time) blends fact, fiction, and supposition in a suspenseful tale based on the 1910 transatlantic pursuit of Dr. Hawley Crippen for the murder and brutal dismemberment of his wife, Cora. The novel seamlessly blends several story lines, following Hawley and lover Ethel, disguised as father and son, as they board a cruise ship headed for Canada (and, they hope, freedom) while also tracing the life of Hawley and of those connected to him from his infancy to his execution for Cora's murder. Unlike historical perspectives that mention Crippen and Jack the Ripper in the same breath, Boyne's Crippen is more sympathetic, although certainly frightening at times. Despite having to capture such a long time frame, Boyn

-Susan O. Moritz


Starred Review. Had Charles Dickens been around to turn his talents to fictionalizing the classic Crippen murder case, the result might well have been close to this superb, multifaceted novel from Irish author Boyne (The Thief of Time). The crime, a cause célèbre in 1910, is probably best remembered for its denouement, which featured a race across the Atlantic by Scotland Yard Insp. Walter Dew in pursuit of his suspects aboard a cruise ship. Boyne brings all the characters in this drama to life, skillfully shifting perspectives and using flashbacks and flash-forwards. While his depiction of Hawley Crippen, a quack and self-proclaimed doctor with a disturbing taste for butchery, and his mistress is admittedly speculative, the author's imaginings of their inner lives and motivations are plausible. His version of the events of the night when Crippen's harridan wife met her gruesome death is convincing, despite the lack of historical support. Boyne is to be commended for his ability to alt

-PW
Advertisement