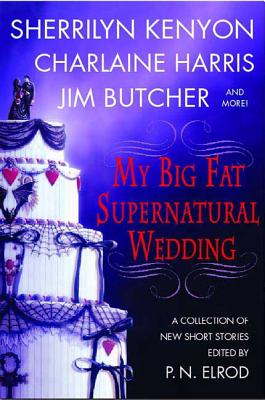 My Big Fat Supernatural Wedding (Paperback)
St. Martin's Griffin, 9780312343606, 320pp.
Publication Date: October 3, 2006
Other Editions of This Title:
Paperback (12/26/2007)
MP3 CD (8/18/2015)
MP3 CD (8/18/2015)
Compact Disc (6/1/2010)
Compact Disc (4/6/2010)
Compact Disc (4/6/2010)
MP3 CD (6/1/2010)
Compact Disc (6/1/2010)
MP3 CD (4/6/2010)
MP3 CD (4/6/2010)
* Individual store prices may vary.
Description
Werewolves, vampires, witches, voodoo, Elvis---and weddings
An "ordinary" wedding can get crazy enough, so can you imagine what happens when otherworldly creatures are involved? Nine of the hottest authors of paranormal fiction answer that question in this delightful collection of supernatural wedding stories. What's the seating plan when rival clans of werewolves and vampires meet under the same roof? How can a couple in the throes of love overcome traps set by feuding relatives---who are experts at voodoo? Will you have a good marriage if your high-seas wedding is held on a cursed ship? How do you deal with a wedding singer who's just a little too good at impersonating Elvis?
· L. A. Banks
· Jim Butcher
· Rachel Caine
· P. N. Elrod
· Esther M. Friesner
· Lori Handeland
· Charlaine Harris
· Sherrilyn Kenyon
· Susan Krinard
Shape-shifters, wizards, and magic, oh my!
About the Author
P.N. Elrod is the editor of Dark and Stormy Knights, Strange Brew, My Big Fat Supernatural Honeymoon and My Big Fat Supernatural Wedding, which won the 2006 Pearl Award for best anthology. She is the author of many novels, including the Vampire Files Series, as well as numerous short stories. In 2010, she was nominated for a Romantic Times Career Achievement Award for urban fantasy, and she is the winner of the Pioneer Achievement Award. Elrod loves meeting readers at science-fiction conventions all over the country. She has two dogs—Sasha and Megan—and an incurable addiction to chocolate. She lives somewhere on another planet, but maintains a convenient citizenship in the state of Texas for tax purposes.

New York Times bestselling author Sherrilyn Kenyon is a regular in the #1 spot. This extraordinary bestseller continues to top every genre in which she writes, including manga and graphic novels. More than 70 million copies of her books are in print in more than one hundred countries. Her current series include The Dark-Hunters, The League, Deadman's Cross, Chronicles of Nick, Hellchasers, Mikrochasers, and The Lords of Avalon. Her Chronicles of Nick and Dark-Hunter series are soon to be major motion pictures.

CHARLAINE HARRIS is a New York Times bestselling author who has been writing for over thirty years. She was born and raised in the Mississippi River Delta area. She is the author of the Aurora Teagarden mysteries, the Shakespeare mysteries, the Harper Connelly mysteries, the Cemetery Girl mysteries, and the Sookie Stackhouse urban fantasy series, which is the basis for the HBO show True Blood. Harris now lives in Texas with her husband.

L. A. BANKS was the author of the Vampire Huntress Legend series and the Crimson Moon Novels, including Left for Undead and Never Cry Werewolf. She had a bachelor's degree from the University of Pennsylvania's Wharton School of Business and a master's in fine arts from Temple University. Banks considered herself a shape-shifter, writing romance, women's fiction, crime and suspense, and of course, dark vampire huntress lore. She lived with her daughter in Philadelphia until her death in 2011.

Jim Butcher contributed to My Big Fat Supernatural Wedding from St. Martin's Press.

RACHEL CAINE is the internationally bestselling author of thirty novels, including the New York Times and USA Today bestselling Morganville Vampires young adult series, and the bestselling Weather Warden series. She contributed to My Big Fat Supernatural Wedding from St. Martin's Press and Chicks Kick Butt from Tor.

Esther Friesner contributed to My Big Fat Supernatural Wedding from St. Martin's Press.

Lori Handeland is the USA Today and New York Times bestselling author of the Nightcreature Novels, including Moon Cursed and Crave the Moon, as well as The Phoenix Chronicles and Shakespeare Undead. She is the recipient of many industry awards, including two RITA awards, a Romantic Times Award for Best Harlequin Superromance, and the Prism Award from Romance Writers of America. She lives in Wisconsin with her family and a yellow lab named Ellwood.

SUSAN KRINARD is the author of twenty-seven fantasy and paranormal romance novels, including Mist, and eleven novellas. Krinard grew up in the San Francisco bay area. She currently lives in Albuquerque, New Mexico, with her husband Serge Mailloux, two cats, and three dogs.
Praise For My Big Fat Supernatural Wedding…
"Fans of paranormal romance will welcome the rare chance to see Sherilynn Kenyon, Susan Krinard, Rachel Caine, Lori Handeland and other favorite authors working in short form." —Publishers Weekly 
"Combining top talent from all across the paranormal genre provides plenty of magical thrills, spills and giggles. Taking a trip down the aisle with these nine authors is a blast." —Romantic Times