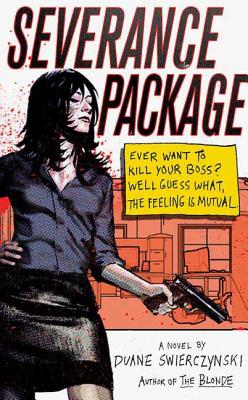 Severance Package (Paperback)
A Novel
Minotaur Books, 9780312343804, 288pp.
Publication Date: May 27, 2008
* Individual store prices may vary.
Description
Jamie DeBroux's boss has called a special meeting for all "key personnel" at 9:00 a.m. on a hot Saturday in August.
When Jamie arrives, the conference room is stocked with cookies and champagne. His boss smiles and tells his employees, "We're a cover for a branch of the intelligence community. And we're being shut down." Jamie's boss then tells everyone to drink some champagne, and in a few seconds they'll fall asleep---for good. If they refuse, they'll be shot in the head.
Escape is not an option. Jamie's boss has shut down the elevators and rigged the fire towers with chemical bombs. Panic sets in, chaos erupts, and no one is sure whom to trust. Jamie quickly realizes that there's only one way he's ever going to see his family again: the hard way.
Severance Package shows author Duane Swierczynski at his thrilling best.
About the Author
DUANE SWIERCZYNSKI is the author of The Wheelman, The Blonde, Severance Package, and Expiration Date, and writes for Marvel Comics. The Wheelman was nominated for the Gumshoe Award and was optioned for film. He lives in Philadelphia.
Praise For Severance Package: A Novel…
"[A] kinetic story, which never stops moving...turbocharged entertainment." —Marilyn Stasio, The New York Times
"Swierczynski writes a brand of thriller whose pacing forces us to reexamine our casual use of the word breakneck...This is essentially one long action scene that begs for the next Tarantino to direct. But if that sounds like faint praise, it isn't: there are both enough cliche killers and comedy to make us raise two thumbs up. If you want your thrillers to be, well, thrilling, pop a big bowl of corn--you won't leave your seat until the end." —Booklist
"The best word to describe Swierczynski's latest thriller is frenetic, and even that is likely an understatement." —Library Journal
"Fans of crime fiction will find Swierczynski's latest offering to be a guilty pleasure of unparalleled magnitude. With pedal-to-the-metal pacing, characters who appear to be meek cubicle dwellers a la 'Office Space' but are really cold-blooded, black-ops killers, and enough gut-churning violence to make a Quentin Tarantino movie look like a Disney musical replete with singing candlesticks and teapots, the dark, twisted energy in this novel is palpable." —The Chicago Tribune
"A hot shot of adrenaline straight to the neural plexus." —Joe Schreiber, author of Chasing the Dead and Eat the Dark