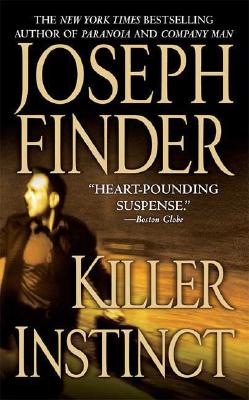 Killer Instinct (Mass Market Paperbound)
St. Martin's Press, 9780312347499, 402pp.
Publication Date: May 29, 2007
* Individual store prices may vary.
Description
Jason Steadman is a thirty-year-old sales exec for a major electronics company in Boston. He's witty and well-liked but, to the chagrin of his ambitious wife, it looks like Jason's career has hit a ceiling. He lacks the one thing that could help him get ahead: the "KILLER INSTINCT "
All that changes when Jason meets Kurt Semko, a former Special Forces officer just back from Iraq. Looking for a decent pitcher for the company softball team, Jason gets Kurt, who was once drafted by the majors, a job in Corporate Security. Soon, good things start to happen for Jason and bad things start to happen to Jason's rivals.
Too late does Jason discover that Kurt has been paving his path to the top by the most efficient, devious means available. Now that his new best friend has become the most dangerous enemy imaginable, Jason stands to lose far more than his job .
About the Author
Joseph Finder is the author of several "New York Times" bestselling thrillers, including "Buried Secrets, High Crimes, Paranoia" and the first Nick Heller novel, "Vanished." "Killer Instinct" won the International Thriller Writers Award for Best Thriller, and "Company Man" won the Barry and Gumshoe Awards for Best Thriller. "High Crimes" was the basis of the Morgan Freeman/Ashley Judd movie, and both "Paranoia "and "Killer Instinct" are in development as major motion pictures. Born in Chicago, Finder studied Russian at Yale and Harvard. He was recruited by the CIA, but decided he preferred writing fiction. A member of the Council on Foreign Relations and the Association for Former Intelligence Officers, he lives in Boston, Massachusetts.
Praise For Killer Instinct…
"Heart-pounding suspense."--The Boston Globe "Unstoppable."--USA Today  

"Masterful."--Houston Chronicle
 
"Explosive…Wickedly fun." --Entertainment Weekly "Master of a complex suspense formula. ...flawlessly executed violence, crisp dialogue, and taut pacing." --The New York Times Book Review
 
"A first-rate thrill ride."--The Pittsburgh Post-Gazette
 
"A rollercoaster of a read."--Cosmopolitan
 
"Clear your schedule before you start reading this one. It's one of those books that once you start reading, you won't be able to put down."--The Boston Globe 
 "The best book of its kind since Michael Crichton's Disclosure."--The Providence Journal-Bulletin 
 
"Truly frightening." --Chicago Tribune
 
"A crowd pleaser."--Fortune magazine
 
"This is fun stuff, with lots of plot twists. Finder once again proves adept at genre conventions and inventive in applying an action-movie sensibility."--San Francisco Chronicle

"Rich territory…an entertaining read."--The Wall Street Journal
 
"Readers who enjoy movies where you have to fight the urge to shout, 'Stop! Don't open that door!' will love this one."--Publishers Weekly (starred review)
 
"Page-turning thrills."--The Seattle Post-Intelligencer
 
"Killer Instinct moves at such a brisk pace that the more than 400 pages zoom by. But Finder doesn't neglect character development for a quick-moving plot. With an economy of scenes and realistic dialogue, Finder sculpts believable characters and avoids stereotypes."--Sun-Sentinel (Orlando)
 
"It starts off with a bang and doesn't slow down until the last page."--Ottawa Sun
 
"Thrills and chills…Finder is a first-rate story weaver." --Booklist
or
Not Currently Available for Direct Purchase