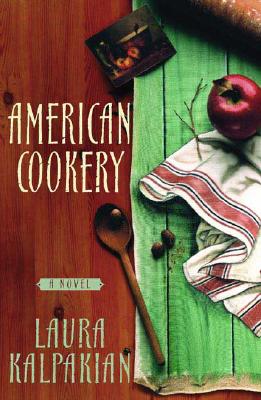 American Cookery
Hardcover

* Individual store prices may vary.
Other Editions of This Title:
Paperback (11/27/2007)
Description
Animated as a family reunion, intimate as a lovers' picnic, American Cookery serves up tradition and innovation in a family novel based on the joy of cooking. The story is complete with twenty-seven recipes from the life and tumultuous times of Eden Douglass.

Eden was born in 1920 into a contentious California tribe, and the ingredients of her life include her grandmother's reserve, her aunt's instinct for action, and her mother's foggy warmth. Seasoned with spicy herbs, and a few bitter ones, simmered and stirred over time, these instincts shape her destiny.

Two strong-willed women--her grandmother Ruth Douglass and her aunt Afton Lance--struggle to pull Eden from the comfy sloth of her parents' home. Her ill-matched parents drift toward financial collapse, and her father, pursuing phantom wealth, takes the family to an Idaho mining town. He finds fulfillment in Idaho, but Eden's mother breaks down, and Eden must shoulder the household drudgery, burdens not in keeping with her aspirations to be a journalist.

Eden's adventurous spirit takes her far from her faith and family. She falls in love in wartime London and rides a motorcycle across war-torn Belgium. After the war, still reeling from a devastating loss, Eden returns to Southern California and is hired by a newspaper, only to confront insidious opposition, yet find an unexpected ally.

Then, in 1952, fate puts Eden Douglass in the path of a runaway horse at Greenwater Movie Ranch, where they're filing a B-movie Western. She falls flat on her face, and Matt March lifts her from the dust. Charming and charismatic, with good looks, cowboy boots, and appetite for life, and his VistaVision of the Western, Matt ignites Eden's passion. Three months later, they elope to Mexico.

In these exuberant California boom years, Eden nourishes Matt's dreams, even though they are sauced with secrets and larded with debt. He tests Eden's strengths and his children's love.

A big-cast book, American Cookery fulfills the wide embrace of its title. The novel chronicles the stories behind family recipes and the lives that touch Eden's--lives of horse thieves, ranchers, railroad men, developers, dreamers, migrants, immigrants, natives, Latter-Day Saints, sinners, silent-film stars, sidekicks, and stunt people.

The good, the bad, the ugly and the beautiful emerge in these pages as American Cookery serves up the whole gorgeous banquet of life.
Praise For American Cookery…
Praise for Laura Kalpakian:

"Whatever happened to old-fashioned stories, with fleshed-out characters, well-crafted plots, strong themes, and palpable atmosphere? Laura Kalpakian, for one, still is writing them."--The Wall Street Journal

"Kalpakian creates inspiring, thought-provoking, even bewitching characters."--The Baltimore Sun

"[Kalpakian] is so entertaining a writer that it takes a while to realize how smart she is…. Generous, gritty, sexy, full of lyrical musings, and funny as all get-out."--The New Yorker

"Kalpakian writes with a verve that leaves you laughing and contemplating your own ideas of family."--The Chicago Tribune

"Kalpakian [is] at her best--earthy, magical, compassionate, and inventive to the last detail."--The Washington Post

"Kalpakian's observations are sharp, her humor is sweet."--London Observer

"Kalpakian is an extraordinarily talented writer with an almost intimidating understanding."--Memphis Commercial Appeal
St. Martin's Press, 9780312348113, 432pp.
Publication Date: September 5, 2006
About the Author
Laura Kalpakian has received a grant from the National Endowment of the Arts, a Pushcart Prize, the Pacific Northwest Booksellers Association Award, and the PEN/West Award for Best Short Fiction. "American Cookery" is her tenth novel.
or
Not Currently Available for Direct Purchase