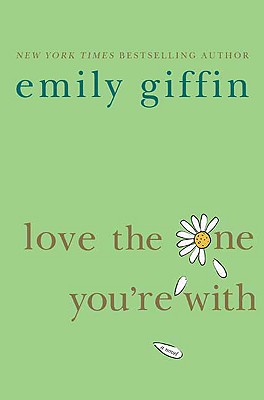 Love the One You're With (Hardcover)
St. Martin's Press, 9780312348670, 352pp.
Publication Date: May 13, 2008
* Individual store prices may vary.
or
Not Currently Available for Direct Purchase
Description
How do you know if you've found "the one"? Can you really love the one you're with when you can't forget "the one who got away"?
Emily Giffin, author of the "New York Times" bestselling novels "Something Borrowed," "Something Blue," and "Baby Proof," poses these questions--and many more--with her highly anticipated, thought-provoking new novel "Love the One You're With."
Ellen and Andy's first year of marriage doesn't just "seem" perfect, it is perfect. There is no question how deep their devotion is, and how naturally they bring out the best in each other. But one fateful afternoon, Ellen runs into Leo for the first time in eight years. Leo, the one who brought out the worst in her. Leo, the one who left her heartbroken with no explanation. Leo, the one she could never quite forget. When his reappearance ignites long-dormant emotions, Ellen begins to question whether the life she's living is the one she's meant to live. At once heartbreaking and funny, "Love the One You're With" is a tale of lost loves and found fortunes--and will resonate with anyone who has ever wondered "what if.
About the Author
Emily Giffin is a graduate of Wake Forest University and the University of Virginia School of Law. After practicing litigation at a Manhattan firm for several years, she moved to London to write full time. The author of four "New York Times" bestselling novels, she now lives in Atlanta with her husband and three young children. Visit www.emilygiffin.com.
Praise For Love the One You're With…
"Giffin's talent lies in taking relatable situations and injecting enough wit and suspense to make them feel fresh. The cat-and-mouse game between Ellen and Leo lights up these pages, their flirtation as dangerously addictive as a high-speed car chase." —People "Giffin is a dependably down-to-earth, girlfriendly storyteller." —New York Times "Giffin excels at creating complex characters and stories that ask us to explore what we really want from our lives. LOVE THE ONE YOU'RE WITH skillfully explores the secret workings of a young woman's heart, and the often painful consequences of one's actions." —The Atlanta Journal-Constitution "Giffin's fluid storytelling and appealing characters give her novels a warm, inviting air, and her fourth is no exception. Giffin's snappy prose makes Ellen's dilemma compelling, once again proving she's at the top of the pack." —Booklist "Though it's easy to resent Ellen for taking her ideal life for granted, Giffin's vivid depictions of Ellen's steamy past with Leo help you commiserate with this realistically insecure woman." —Entertainment Weekly "Giffin's books are funny, sensitive and truthful depictions of female friendships and the complexities of marriage and motherhood." —Atlanta Peach "Ellen's conflicting thoughts and emotions ring true from page one through the book's teary (well, at least for this reader) conclusion." —Ft. Worth Star-Telegram "Giffin's book is instantly relatable. Few don't wonder how their lives would be different if they had turned left rather than right at life's big forks. Her writing is realistic and entertaining. There are unexpected plot twists and measured jabs at materialism and Southern societal norms, and Giffin's funny, honest voice lends credence to this modern riff on the old adage that the grass appears greener on the other side of the fence." —Charlotte Observer "I so loved Emily Giffin's last three books that I almost didn't want to crack her latest effort, for fear it would be the Superman IV of the author's literary opus. Mercifully, the new book not only lives up to its elegantly constructed predecessors, it arguably surpasses them in style, maturity, emotion and overall relatability. An achingly honest look at the notion of love as the sum of our choices as opposed to the contents of our vows." —Edmonton Journal "Giffin's books are smart, sad and witty . . . Giffin is bold enough to allow a mainstream heroine to be happily married while still maintaining her curiosity about the road (or the guy) not taken, let alone considering infidelity. And she's able to show the strains that these considerations take on family, friends and husband . . . It's the difference between appealing to a mass audience and a reader who wants her ideals challenged rather than affirmed, often intentionally ending in ambiguity and compromise. It's the stuff of real life, stripped of literary pretensions." —National Post "Who hasn't fantasized about what might have happened if? Giffin does an excellent job of letting us live that one out vicariously while telling us a story that is so modern, multi-layered and moving that you'll feel a little sad when it comes to a close." —Gentry magazine "Giffin is a masterful storyteller and manages to infuse energy, freshness and suspense into what could have been yet another predictable 'woman-at-a-crossroads' story. (Giffin could, in fact, teach some literary authors a few things about how to write compelling plots with strong motors.) The best thing about this book is Giffin doesn't play it safe or shy away from allowing her heroine to explore lust, infidelity and the road not taken. The dichotomy of passion and comfort, lust and security, is nothing new to literature, and yet in Giffin's deft hands, I really had no idea who Ellen would wind up with until the very last page, and more important, I actually cared." —The Globe and Mail "This sweet tale satisfies through well-drawn characters who are forced to make some tough real-life decisions." —Star "Love that's clouded by the memory of an old romantic relationship is the subject of Emily Giffin's aptly titled LOVE THE ONE YOU'RE WITH. Readers will follow Ellen with fascination and trepidation as she enters the dangerous waters of what might have been—or still could be." —Hartford Courant "LOVE THE ONE YOU'RE WITH is a delicious novel for anyone ever caught between what is right and what is irresistible." —Bookpage "Giffin delivers another relatable and multifaceted heroine who may behave unexpectedly but will ultimately find her true path." —Library Journal "Giffin's fourth novel demonstrate much depth as she explores the conflicts that arise between passion and common sense." —Kansas City Star "For anyone who has wondered about the path not taken. Thought-provoking . . . and perfect for an afternoon in the sun." —New York Resident "Giffin has a remarkable gift for taking banal relationship issues and infusing them with life through her characters. LOVE THE ONE YOU'RE WITH is Giffin's most moving book yet. The romantic tension hangs off the pages like webs, trapping the characters as they attempt to live conventional lives. As always, Giffin's writing will leave you fully satiated." —Woodbury magazine  "Emily Giffin delivers the characters and stories we love in her fourth novel." —OK! magazine  "Giffin's characters are all quite likable, and this book is full of fun New York details and musings on the human condition that are more insightful than many books." —Minneapolis Star-Tribune
Advertisement